Do you have a list of home remodeling projects you want to do, but a budget that doesn't let you do everything? Whether you're making the improvements to sell the home or to enjoy while you're living there, some improvements can add a lot to your resale value. Here are the top home improvements that pay off while you live in your home, things you can do for a long term return on your investment, or to increase your home's appeal on the market if you're selling soon.
Kitchen upgrades: Whether you're doing minor updates or a major renovation, kitchen upgrades are one of the hottest home improvements you can do. If you're looking to stay on a budget you can make a huge difference by improving the lighting, updating the appliances, having the cabinets refinished, and replacing the countertops. Click here to see more photos from the remodel featured above.
Bath updates: Like kitchens, bath renovations go a long way for the money. Improvements can be as small as upgrading the flooring, updating the sink and fixtures, and refinishing the tub, or they could be as large as expanding the bathroom. Specifically, turning a half bath into a full bath can add substantial value to your home.
Added space: Adding to a home's usable space can improve its value dramatically. This might mean turning an attic into a bedroom or media room, or adding a bonus space above your garage. This adds to your home's finished square footage and will attract buyers who would like a little more space. Learn more about flex space and why it's one of the top home improvements that pay off.
Curb appeal: Improving the way your home looks from the street makes it more likely to attract buyers. In addition, doing home improvements such as landscaping the yard and replacing the siding with modern, low-maintenance material adds value because it means there is less for the buyers to do.
Patio install or upgrade: Outdoor living spaces are a hot new trend. Simply said, what's outside a home is becoming as important as what's inside. Installing a deck or patio and other upgrades, such as patio covers or an outdoor kitchen, enables the space to be used as an extension of what's inside the home.
Paint: Believe it or not, something as simple as repainting your home – inside or out – can add to its value and bring you a return when you sell it. Think outside the box and choose colored paint, rather than white. Look for rich neutral shades if you're selling the home, so that buyers can move in without painting and decorate however they like. Click here to read more about our Home Painting services.
New windows: Older windows are often huge sources of lost heat in the winter and cool air in the summer. As a result, replacing the windows in your home can add value and bring you a return if you're selling it. It may not be one of the most exciting home improvements that pay off, but it's practical and economical for both you and the buyer.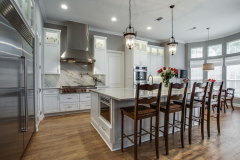 Whether you plan to stay in the home and enjoy the updates yourself, or use them to help the home sell better, some home improvements are just better at adding value than others. Owning a home is, after all, an investment, so to ensure you can eventually cash in on what you spend, stick to the home improvement projects that are most likely to impress buyers.