Those work-from-home directives may be a recent phenomenon, but having a home office is a familiar space for many. Whether you're self-employed with your own home office, employed and working from home, or have a corner of the house set aside to work on your side hustle, you'll want the most productive space possible.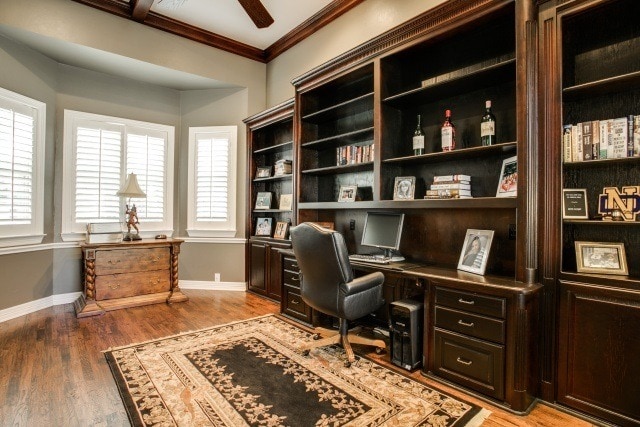 When we speak to our clients about how they work from home, some things come up repeatedly. Everyone agrees that dining room chairs are uncomfortable, clutter builds, and distractions ramp up when your office has no boundaries.
Whether organizing your space or remodeling to increase your comfort and productivity, you'll want the space to fit you. If you want to raise your productivity and embrace your office space, here are some ideas to get you started.
Table of Contents
Three Important Questions
If you know your home office needs go beyond a little reorganizing, think about what's possible in the space you have to work with. Ask yourself these three questions.
Can You Add?
If you have the square footage available to extend, adding new office space to your property might be the solution. A fully-fitted bespoke office makes the most sense in this case. Having your desk, shelving, and storage solutions tailored to your exacting needs means your office will be efficient, inspiring, and exactly where you want to be — not where you have to be each day.
Can You Convert?
Why not convert an underused loft or basement space into a home office or use the nook under your stairs for some space-saving storage and a pull-out desk? We meet clients with homes of all sizes, and can usually identify for them a conversion opportunity. Look objectively at your home to see where your workspace might fit.
Can You Combine?
If you're struggling to find the space for a home office, talk to us. We help clients find space in areas they'd never even thought of. From combining a home gym with a home office to using a breakfast nook as a work desk, we can usually find a solution.
Managing Clutter with Clever Storage
If you've downsized from a busy shared office, it can be hard to know what you need to successfully work from home. Try this simple methodology for giving everything a home: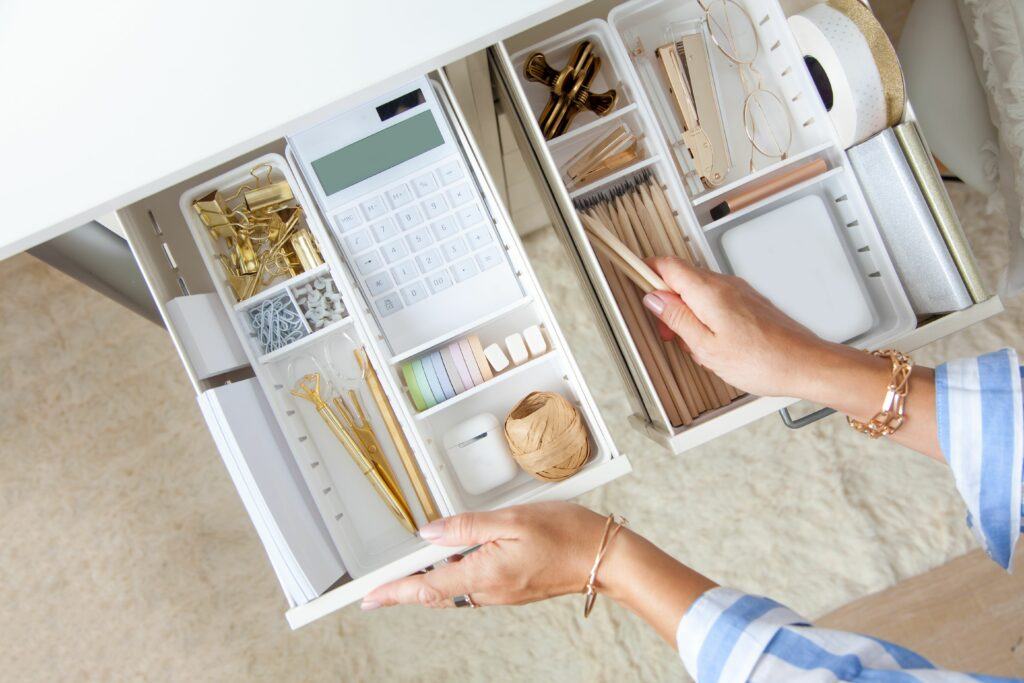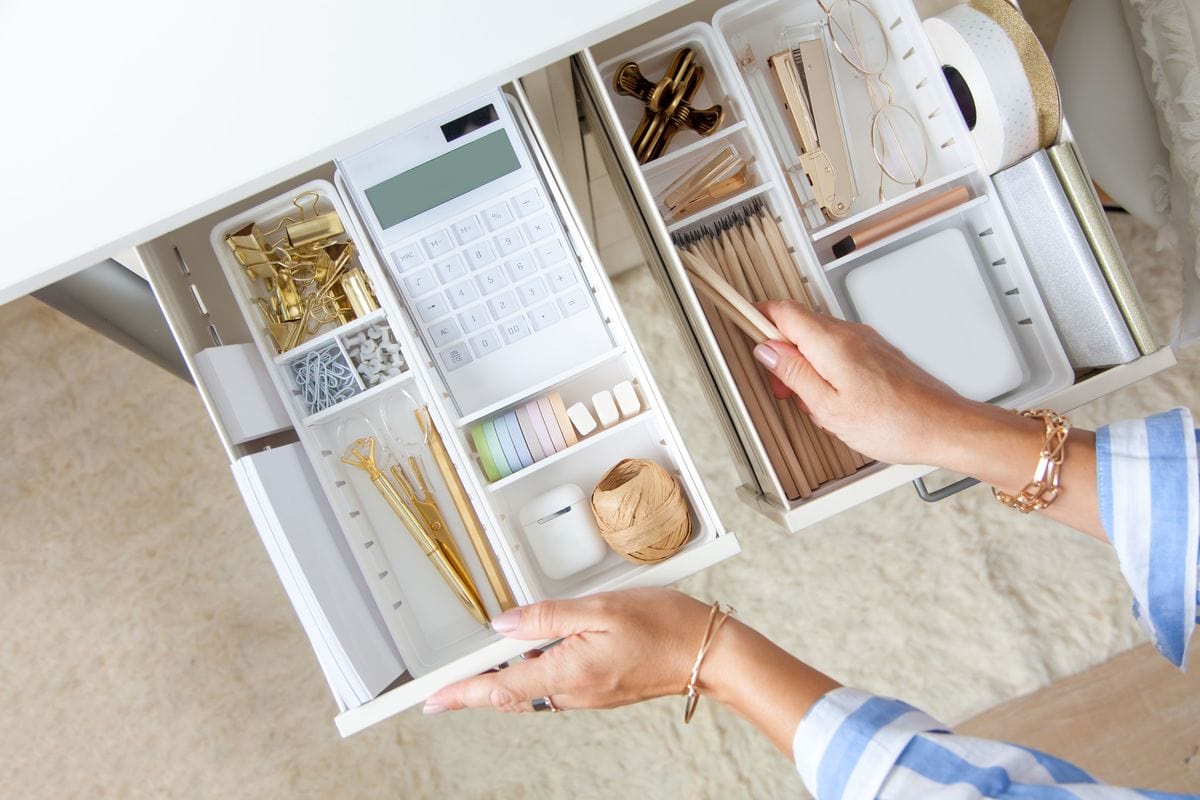 Think about what you use every day, these only need a simple tidy-away area.
The items that help you do your work a few times a week or a month, should be stored away but within easy reach.
Have a box or cupboard designated for items that need to be filed or returned to your head office, and visit regularly to do so.
Returning project-specific items should be the last step on any project checklist.
To make the most of your designated room or space, it makes sense to balance design with efficiency. Having the right things to hand keeps you in a flow state while working — particularly helpful if you're in a creative role. Sensible storage might look like:
A color-coded box file system
Built-in overhead cupboards
Fitted under-stairs drawers
A filing cabinet on wheels
We can help you design the storage you need for the space you have. With many years of experience and a team of innovators at your disposal, we have plenty of ideas up our sleeves.
Staying Healthy
Ask your HR or occupational health department for their advice on a healthy working environment. Staying healthy at work is essential if you want to keep sick days to a minimum, maintain high productivity levels, and decrease any potential hazards or discomfort that can affect your overall health. An organized space is no good if you're unable to work there. You might need to add or change up your fixtures to ensure you have:
Ambient, task, and natural lighting
Easy access to fresh air
Temperature controls
Ergonomic furniture
Space to move around between tasks
The right chair and desk can make or break your home office, too. When we work with home office clients, we will always ensure the height and reach of any installed furniture is ergonomically correct whether you choose to sit, stand, or fancy a mixture of both.
Create a Minimalist Workspace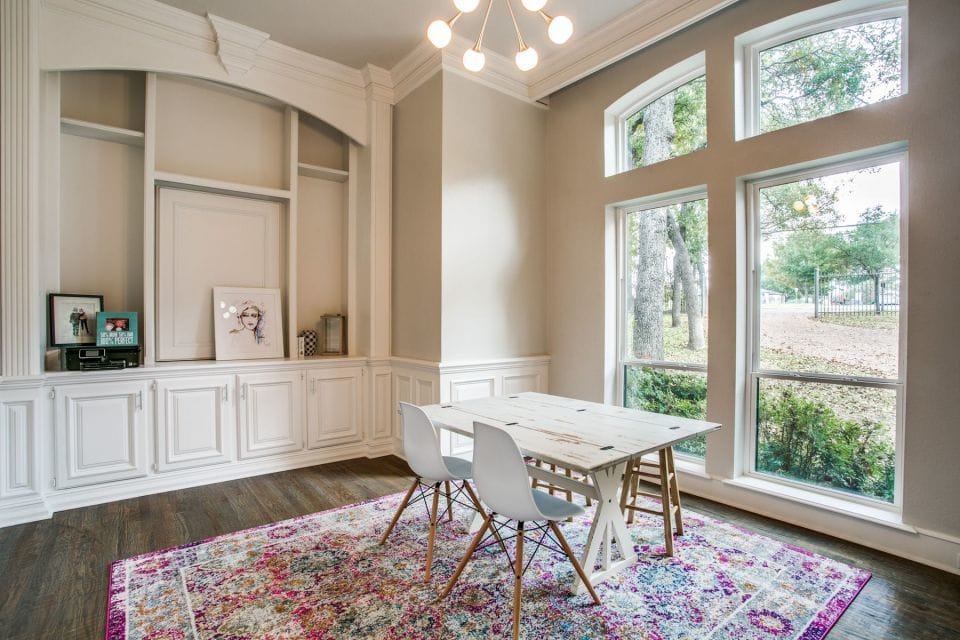 The less you have, the less you need. Maybe you've transitioned from working in coffee shops as a freelancer to having your first home office. Keep an eye on what you add to your workspace and don't let your environment pile up with things that will disrupt or distract. Create a next-step flow chart for anything that passes across your desk, too. For example, make sure paperwork has a file to live in or gets recycled quickly in a nearby bin. You could even boss yourself and implement a clear desk policy.
The Details You Deserve
If you work from home for a significant amount of time, it makes long-term sense to address the finer details. Budgeting for office doors and soundproofing will keep you focused and help maintain your professional standards.
If you make regular video calls to clients or join business meetings via live stream, it makes sense to invest in an office setup that visually conveys who you are, whether that means displaying your certifications on the wall or having a pull-out green screen to disguise what's behind you.
When the Workday Ends
It's more important than ever to fully switch off and be present for your family when the workday ends. If you need help with that, here are some ways to close off your workspace and keep items out of sight and out of mind:
Add doors or blinds to storage shelves
Use opaque boxes to store work items
Add drapes to sweep across your office door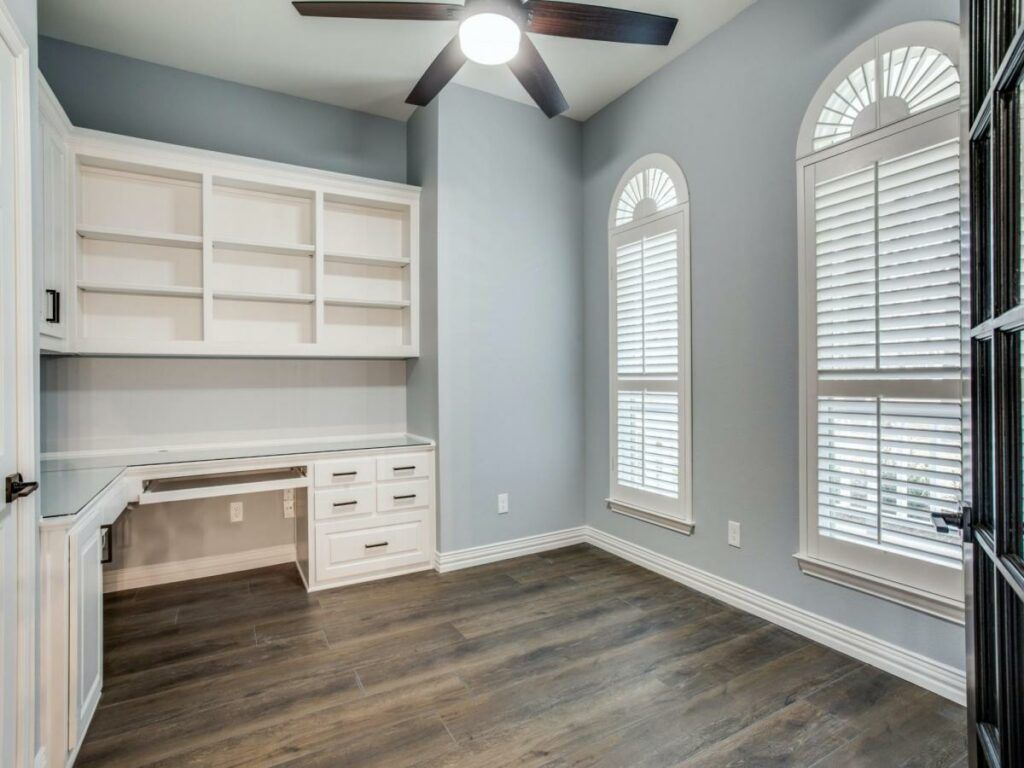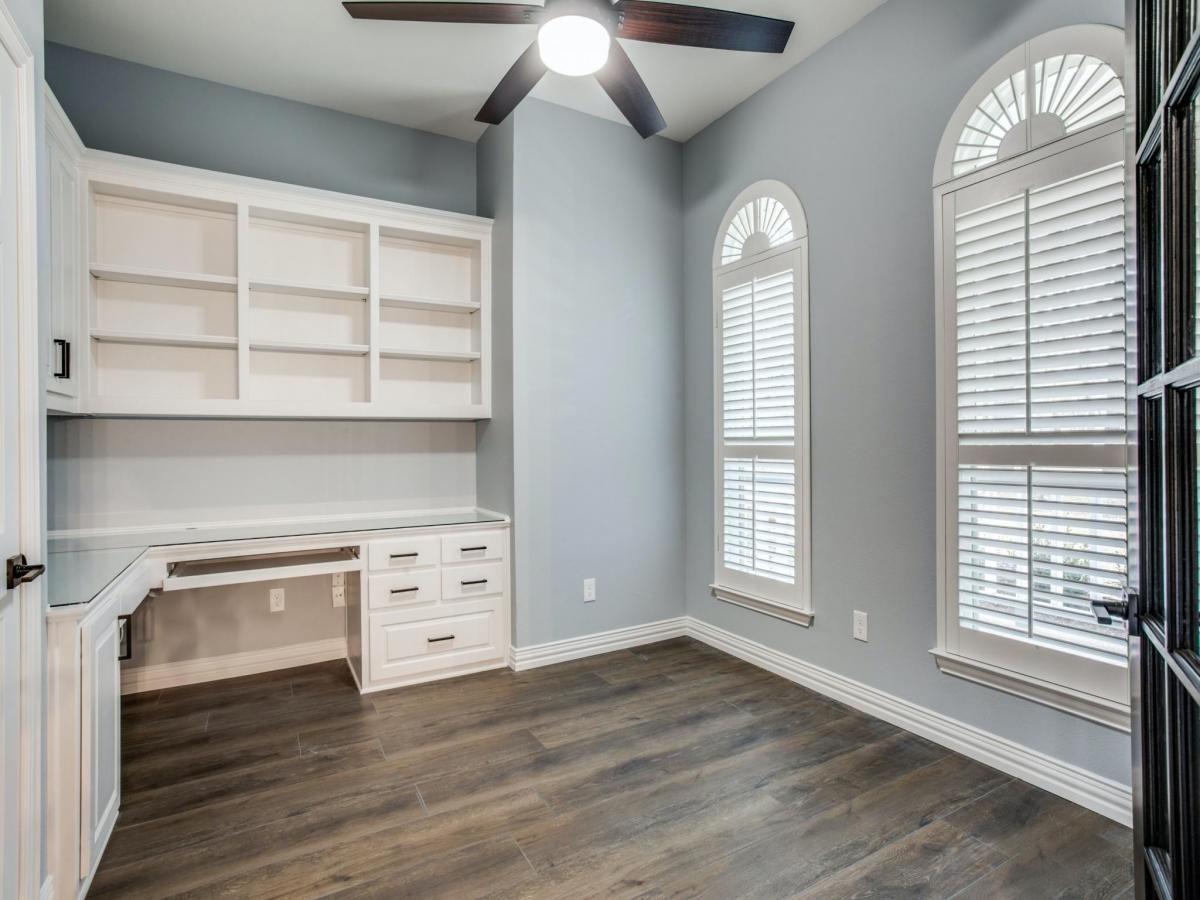 This isn't just helpful for your work-life balance but it'll stop things from the rest of the house spilling into your office and vice-versa, making it much easier to stay organized.
A home office should be a place you enjoy working in. By creating something bespoke that fits your needs, you'll be more comfortable and productive. Whether that's a fully fitted space or a corner that serves your needs, the fundamentals are the same.
DFW Improved is here to help. We are a full-service remodeling contractor based in the Dallas Fort Worth area. Our team of decorators, architects, designers, and builders will listen to your ideas and then work with you to create an attractive and well organized home office.
If you want inspiration and see what DFW Improved can do, click here. If you'd like to talk through your ideas and learn more about the services we offer to bring your vision to life, please contact us here.