They say the kitchen is the heart of the home — and as one of the most-utilized, centrally located rooms, it makes sense that it serves as the family gathering place. So, it's no surprise that most homebuyers name an up-to-date kitchen as one of their top priorities. From flooring to light fixtures and everything in between, kitchen renovation options are endless. If you're considering an upgrade, it's important for you to know which kitchen features are worth the investment.
Table of Contents
Why Are You Upgrading?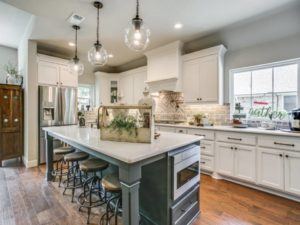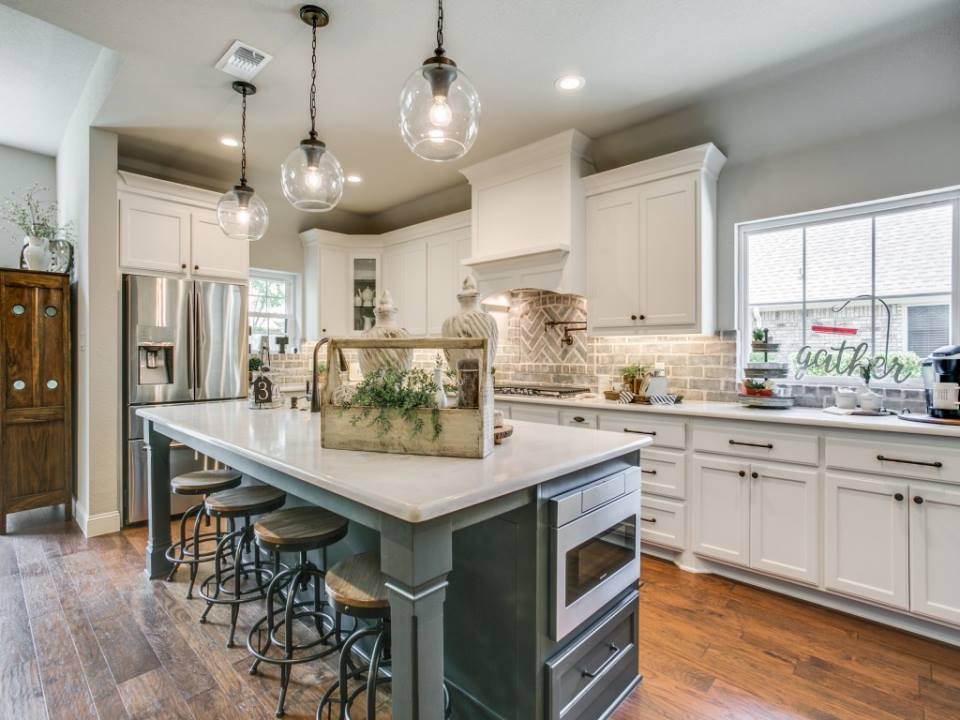 Before you begin planning your remodel, determine your "why". If your goal is to update for an approaching sale, focus on upgrading kitchen features that have high buyer appeal. New countertops and stainless-steel appliances are often at the top of homebuyers' wishlists. If you're renovating for your own use, the kitchen features you select will likely be determined by the needs unique to your family. For example, someone who enjoys gourmet cooking would likely value a high-quality stovetop. A person who regularly hosts parties might want to include a wine cooler or warming drawer. A large family would likely value extra storage and seating. Analyze your needs before jumping into the design process.
Learn More: Things to Consider When Planning a Kitchen Remodel
Features to Invest In
When it comes to updating your kitchen, there are several features that tend to be more worth your investment than others. Choosing which materials, design elements, and appliances will bring you the best ROI can seem daunting. Here are some of our top picks.
Layout
The layout is the most overlooked, yet important, part of any kitchen. You could have top-of-the-line appliances and every feature imaginable. But if the layout is dysfunctional, you'll always be frustrated with your kitchen. Having a well-designed layout makes cooking easier and more efficient. Ideally, you want an easy path between all major appliances – stove, oven, fridge, and sink. And don't forget – you'll need plenty of counter space for prep work and ample outlets for countertop appliances.
Islands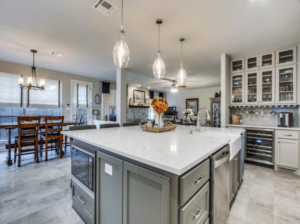 If you have space, adding an island to your kitchen is a huge upgrade. If you are in need of more space to prep, host, or store, then an island is a feature that is definitely worth the investment. An island adds function, storage, dining space, entertainment possibilities, and is a huge selling point for many buyers. Keep in mind that you do need sufficient space on every side of an island in order to make it functional. A professional contractor can sort through the details with you to best maximize your options.
Appliances
Major appliances are easily the most-used features of any kitchen. But if you aren't careful, these big-ticket items can eat up a significant portion of your budget, limiting your options for the remainder of the remodel. To save money, consider how you'll use the appliances. For example, a couple might be fine with a smaller refrigerator and dishwasher than what a large family with multiple children would need. A double oven usually isn't necessary for most people, but someone who frequently entertains might find it really valuable. Consider the expected lifespan of each appliance. A stovetop typically lasts much longer than a fridge, so it might make sense to buy a simpler refrigerator and invest in a nicer stovetop.
Selecting Appliances
When selecting appliances, remember that stainless steel is often the top choice among most buyers. Energy-efficient appliances are often worth the investment, as they can save you hundreds of dollars each year. To help make your decisions, be sure to read online product reviews. This will give you insight into which brands are the best for each type of appliance. A brand that makes a wonderful dishwasher may produce only a mediocre oven.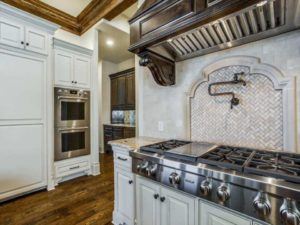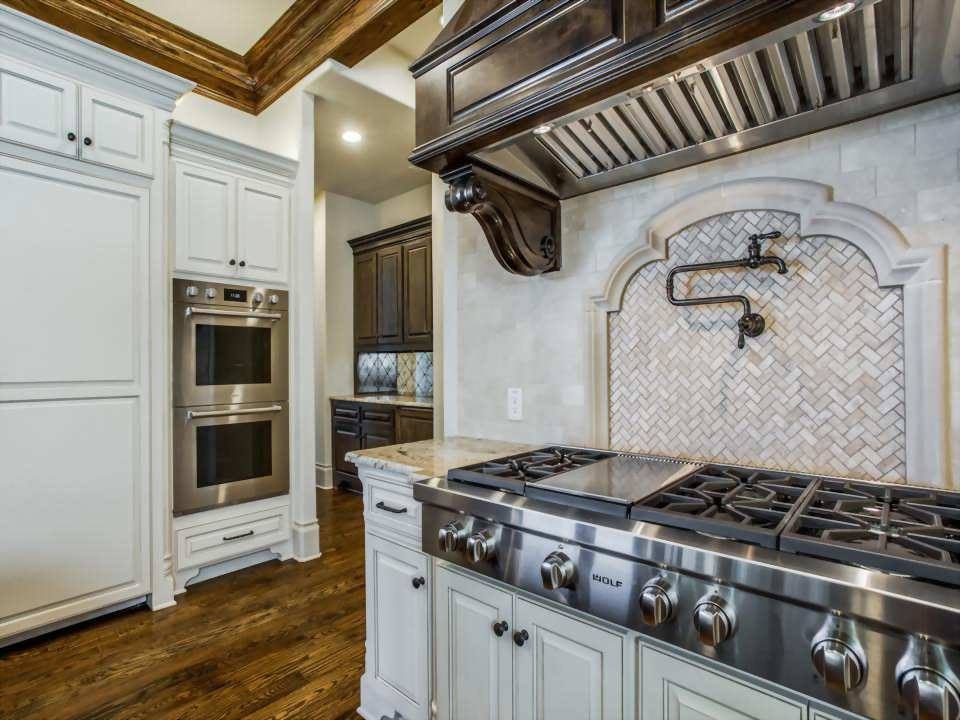 Keep these tips in mind while shopping for specific appliances:
Convection ovens and induction cooktops are designed to cook faster and more evenly. Multifunction ovens have added fan-assisted cooking and grilling options, which allow the oven to do more – like browning or thawing.
Check if a dishwasher has an economy or half-load cycle. This can save water and energy when running a partially full load.
A fridge that circulates air in the freezer rather than using a defroster can significantly reduce freezer burn, saving money on wasted food.
Stainless-steel sinks are easy to clean and have a high tolerance for abrasions caused by stacked dishes.
Tri-flow, or three-way, faucets feature the standard hot/cold lines, plus a separate line for filtered water. This eliminates the need for bottled water or additional purification systems.
Water dispensers and ice makers on refrigerator doors tend to take up a lot of interior fridge and freezer space. To utilize as much space as possible, look for appliances that have those features built into the machine.
Flooring
Upgrading your kitchen floors can instantly transform your space, giving it a fresh and stylish look. Floors are constantly used and abused, yet don't always receive the design consideration they deserve. If you use your kitchen often, good flooring is definitely a feature that is worth the investment. If your floors are worn or outdated, you have a great opportunity to modernize your home.
When choosing flooring, it's essential to consider your lifestyle, as well as your design preferences. Choosing durable materials that are easy to clean and can withstand heavy foot traffic, spills, dents, and scratches can drastically prolong the life of your investment.
Learn More: How to Pick Flooring That Fits Your Lifestyle
Backsplash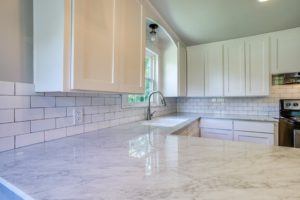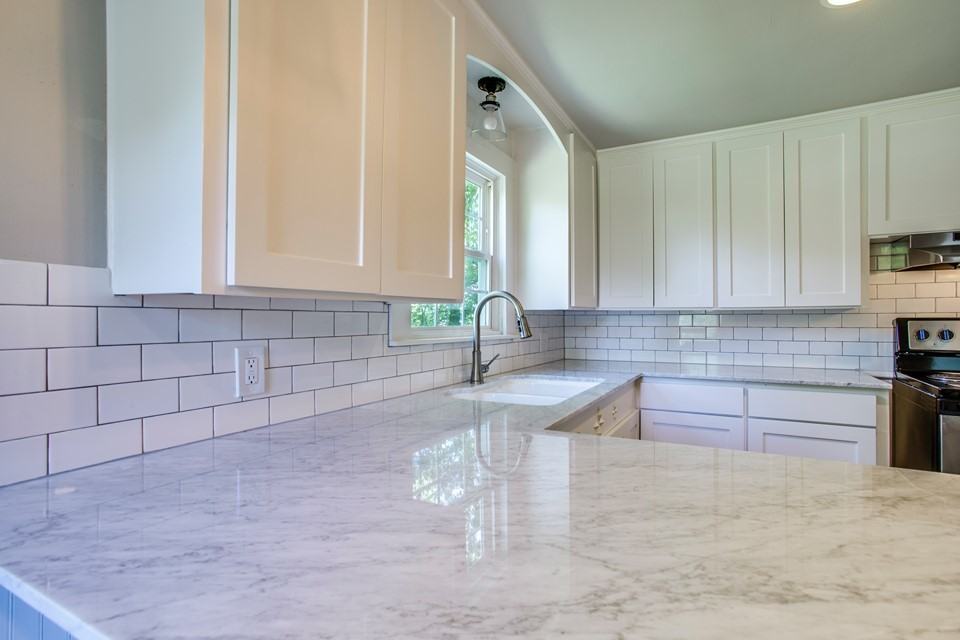 Your kitchen backsplash can be a fun place to express your personality and incorporate your unique style. But it also serves a functional purpose. Backsplashes are typically installed behind sinks and stoves to protect the wall from water damage and accidental splashing. In order for your backsplash to work efficiently, it must be able to withstand both moisture and heat. The materials you choose should not only reflect your style but should also be durable and easy to clean. Adding a backsplash into your kitchen design now could save you from a potentially stressful and costly situation later.
Countertops
New kitchen counters are a big decision in terms of both cost and function. High-end countertop materials can consume a significant part of your budget. But a well-chosen countertop can increase the efficiency of your kitchen, make it easier to clean, and can add a foundational design element.
When choosing the material for your new countertops, consider factors such as your lifestyle and family's season. How often do you use your kitchen? Do you enjoy entertaining? Do you plan on selling your home in the near future? Materials like granite, quartz, and marble typically have a high return on investment. They are also some of the most desired countertop materials among potential buyers. Not only are they sleek and stylish, but they're also durable and easy to maintain – perfect for a busy and well-loved kitchen.
Cabinetry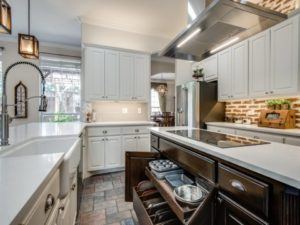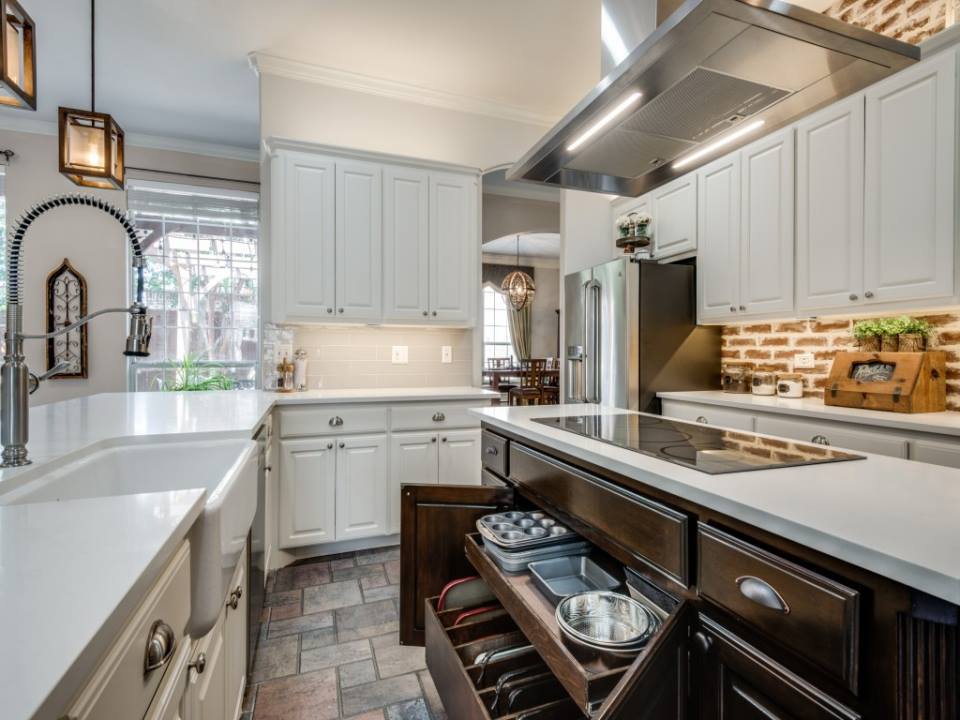 Old, worn cabinets can easily make your kitchen appear crowded and dated. Thankfully, a cosmetic update can bring life back into your space, increasing its efficiency, durability, and overall aesthetic. If your existing cabinets are in good physical shape, painting or refinishing them is a great way to get a fresh, new look. If it's time to replace them, investing in new cabinets is a project that could greatly expand the life and use of your kitchen.
When it comes to cabinetry design, don't be afraid to get creative! Just be mindful of your storage needs, and always consider the flow and layout of your kitchen. Installing drawers instead of doors in the lower cabinets is a popular trend. It provides much more storage for things like pots and pans, cooking utensils, and countertop appliances. Many homeowners are even opting for open or exposed shelves instead of bulky upper cabinets to help brighten and open up their kitchen space.
Lighting
Good kitchen lighting is an often overlooked priority. A bright and bold fixture can not only make an impactful design statement but also increase the function of your space. If the lighting in a kitchen is less than stellar, other features you've invested in won't live up to their fullest potential.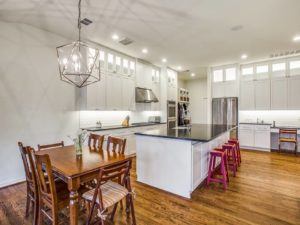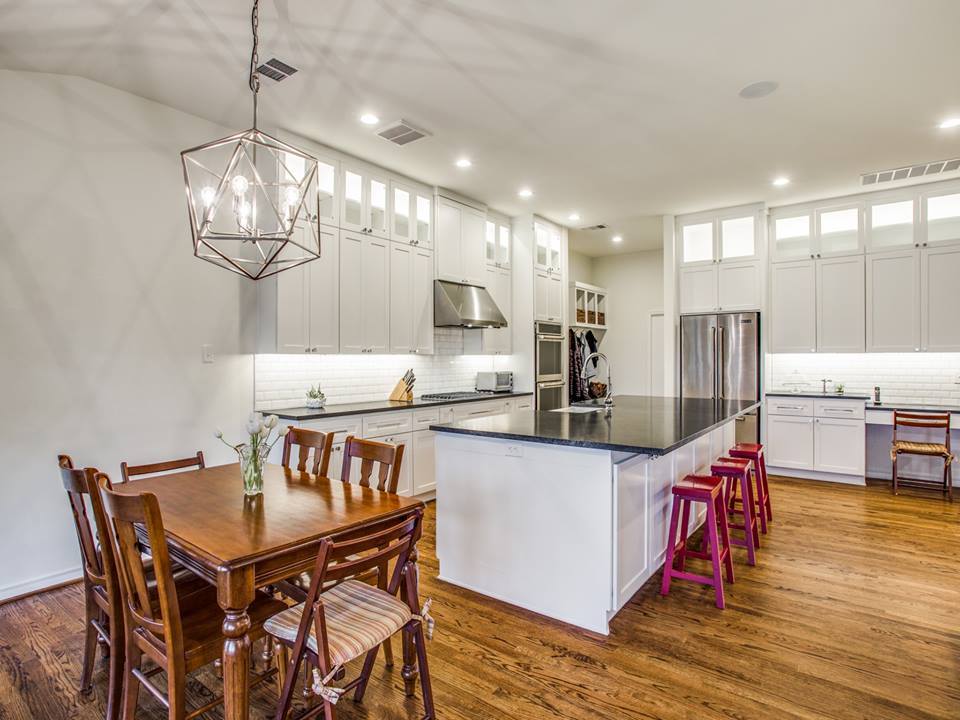 Good lighting should meet the basic functional needs of food preparation, cleanup, and highlight a space for people to gather. Task lighting is ideal for countertops and over sinks, where most kitchen work takes place. Recessed canned lighting is great for bringing bright, soft light to the entire area, and LED-strip lighting installed under the cabinets can help illuminate your countertops and drawers. A common lighting plan for kitchens typically consists of a central ceiling fixture or recessed canned lights for ambient lighting, under-cabinet fixtures as task lighting for countertops, and a pendant or hanging fixture for task lighting above the sink.
Learn More: Light Up Your Life: Kitchen and Bath Lighting Styles
When it comes to choosing which kitchen features are worth the investment, start by determining your purpose for the remodel. Then, pick your priorities. The professionals at DFW Improved can help! Whether selecting the right features for your family, reconfiguring your kitchen's layout, or improving efficiency with custom features, we have the experience to guide you through an upgrade that pays — whether you're looking to sell or are making home all your own.
Related Images: