As a homeowner, you understand the importance of a well-organized kitchen. It's not just about aesthetics; it's about functionality, efficiency, and making the most of your space. At DFW Improved, we specialize in creating custom kitchen cabinet solutions that are tailored to your specific needs. In this article, we'll explore some of the most innovative kitchen organization ideas that you can incorporate into your remodel.
Table of Contents
Blend Open Shelving with Traditional Cabinets
One of the most popular kitchen organization ideas is to mix open shelving with traditional cabinets. Open shelving is perfect for displaying your favorite dishes and decor, while traditional cabinets provide hidden storage for less attractive items. This combination allows you to keep your most-used items within easy reach while maintaining a clean and uncluttered look.
Learn more: Kitchen Features Worth the Investment
Innovative storage solutions are a hallmark of DFW Improved's designs. One such solution is creating hidden storage in your backsplash. This can be a pull-out spice rack or a hidden cabinet for cooking utensils. It's a clever way to keep your essentials close at hand while maintaining a sleek and streamlined look.
Custom Cabinetry Inserts for Bulky Items
Custom cabinetry inserts are a game-changer when it comes to kitchen organization. These inserts, which slide out for easy access, allow you to store bulky items like pots and pans in your cabinets, freeing up valuable counter space. Plus, because they're custom-made, they can be designed to fit your specific needs and preferences.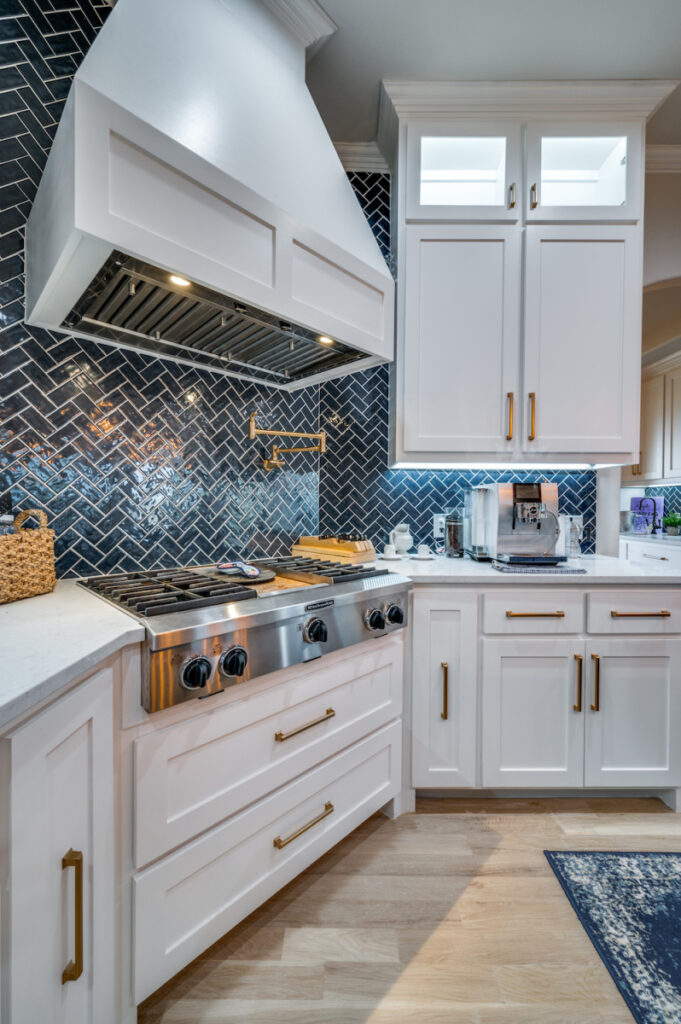 Dishware in Drawers
Storing dishware in drawers rather than upper cabinets is another innovative kitchen organization idea. Drawers offer easier access; you won't have to worry about dropping a dish from an upper cabinet. Plus, it's a great way to get kids involved in setting the table!
Store Items Where You'll Use Them
One of the keys to effective kitchen organization is to store items where you'll use them. For example, narrow vertical drawers beneath your range are the perfect place for cooking oils and spices. Custom drawers with upright containers can keep utensils at the ready alongside the range. This approach not only makes cooking more efficient but also helps to keep your kitchen tidy.
Tuck-Away Platforms for Appliances
Not every appliance needs to be on display all the time. Tuck-away platforms are a clever solution that allows you to store appliances like stand mixers or coffee pots when they're not in use, freeing up valuable counter space. When you need them, simply pull out the platform and have an additional workspace.
Customize Your Space for Your Routines
When planning your kitchen remodel, think about your daily routines and design your kitchen to accommodate them. If you love to entertain, consider adding a beverage fridge. If your dog is your kitchen sidekick, consider adding a built-in feeding station. Coffee lovers can create a dedicated coffee nook. At DFW Improved, we believe that a well-organized kitchen is one that fits your lifestyle.
Built-In Appliances for a Sleek Look
Built-in appliances can help to optimize storage and counter space while creating a sleek and modern look. Consider built-in coffee machines, ovens, and microwaves, or even a microwave drawer on your kitchen island.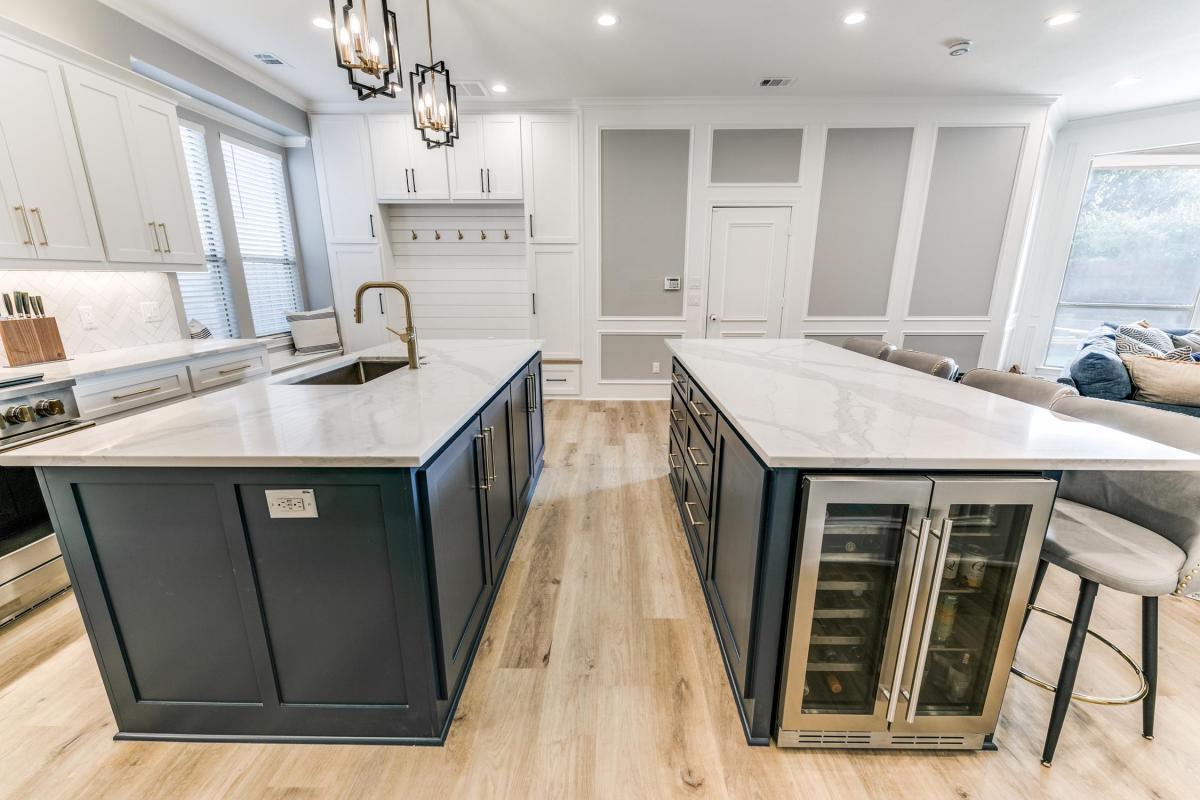 Divide and Conquer with Drawer Inserts
Drawer inserts and adjustable dividers are simple solutions that can have a big impact on your kitchen organization. Use them to keep lids neatly separated from their corresponding pots and pans or to keep tableware and spices neatly contained.
Make a Statement with Your Organization
A well-organized kitchen doesn't have to mean that everything is hidden away. Consider making a statement with your organization by displaying frequently used items in a stylish way. This could be a magnetic knife strip on an accent wall, a display of wooden cutting boards against your backsplash, or a decorative towel rack.
Pantry Perfection
Don't overlook your pantry in your kitchen organization plans. Glass canisters for dry goods, baskets for smaller items, and storage racks can all help to keep your pantry tidy and efficient. If space allows, consider storing less frequently used appliances in your pantry to free up counter and cabinet space.
Customize Your Kitchen Island
A kitchen island is not just a focal point; it's also a prime opportunity for additional storage. Consider incorporating open storage, a built-in wine rack, or even a microwave drawer into your kitchen island design.
At DFW Improved, we understand that every homeowner is unique, and so are their kitchen organization needs. That's why we specialize in custom cabinet solutions that are designed to make your kitchen more functional, efficient, and enjoyable to use.
Before diving into a kitchen remodel, read our article "Questions to Ask Before Hiring a Kitchen Remodeling Contractor" so you are prepared.
Whether you're planning a full kitchen remodel or just looking to improve your kitchen cabinet organization, we're here to help.