According to remodelers and home builders, multi-generational houses are a trend that will only continue to grow in the future. We can help you create functional, beautiful living environments for families who want to live together under one roof.
Table of Contents
Separate Entrances
Separate entrances make one home feel like two homes. Privacy is provided for each family generation entering or leaving the house to avoid disturbing others' schedules or activities. A multi-generational home has separate entrances for a duplex feel but usually includes a connecting door for flexible access.
First-Floor Master Suites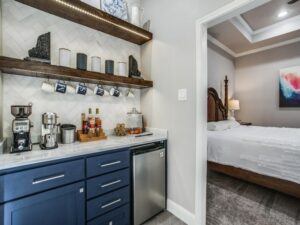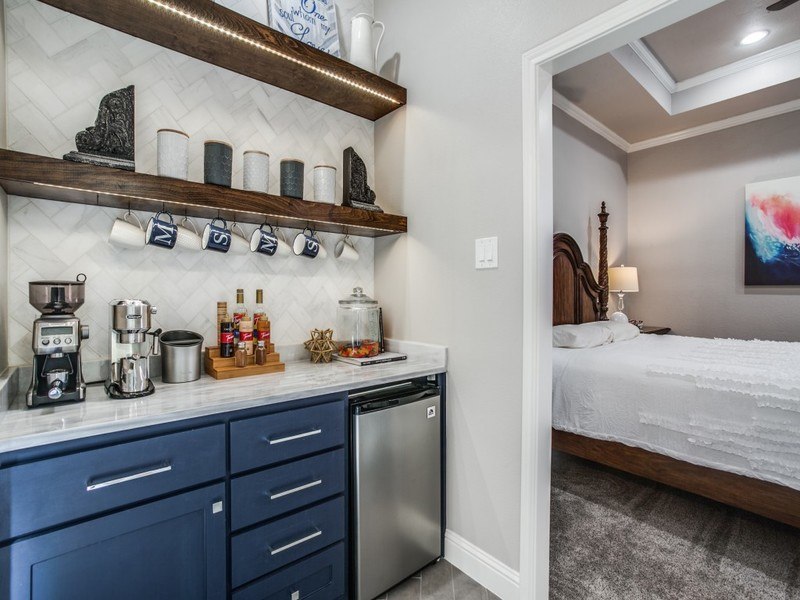 First-floor master suites and dual master suites are great for multi-generational living. They are ideal for baby boomers who want to move in an adult child. This could be someone who is just out of college, looking for a job, newly married, or an aging parent who prefers aging in place. Dual master suites with one up and one down work well for blended households needing extra privacy. One of our most recent projects offers a master suite that includes a morning coffee bar for ultimate convenience.
Second Kitchens
Multi-generational households become much more functional with two kitchens. Two distinct living quarters or an in-law suite with a second kitchen will make the home more functional and private. Although a second kitchen may increase the design costs, it will give each family their own private space to prepare food and enjoy family meals together. Second kitchens are ideal for blended families with elderly adults who prefer quiet dinners and small children who get a little rowdy at the dinner table.
Lower-Level Living Areas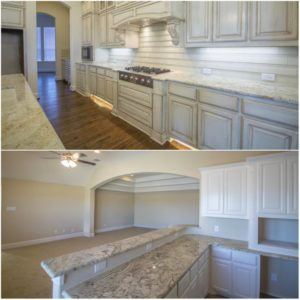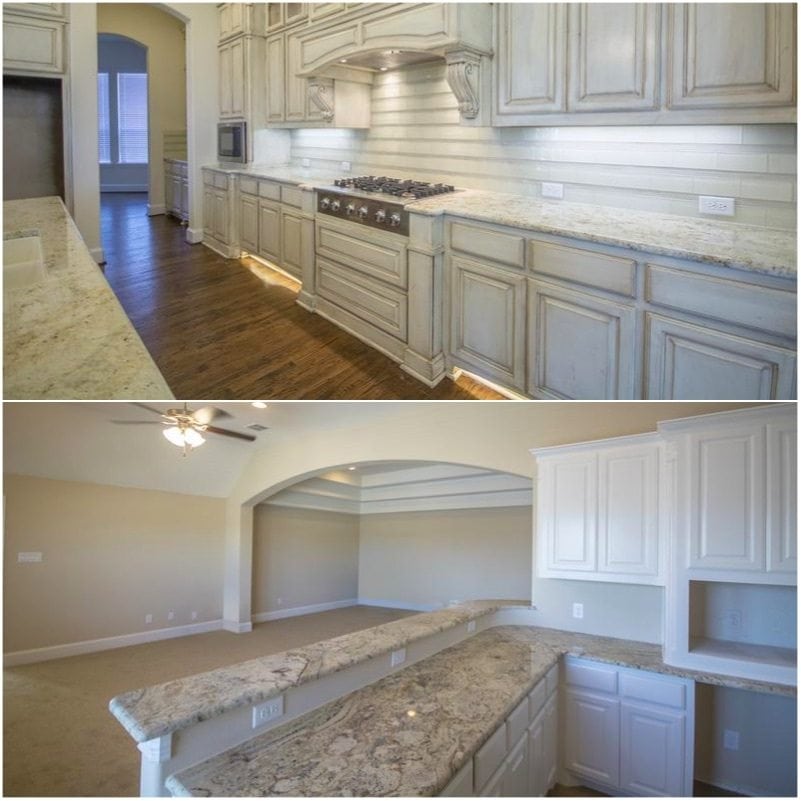 A finished basement in smaller multi-gen homes provides private living space for adult siblings or kids who move back home. In many planned communities with multi-generational housing, finished basements are one of the most popular design options.
Living Space Above the Garage
Creating a functional living space above the garage will provide complete privacy for other family members. A private staircase and entry allow occupants to come and go without disturbing the rest of the family. Split garages can also provide good opportunities for private living space. A three-car garage typically has two bays on one side of the entry courtyard and one bay on the other. An in-law suite for aging parents preferring to age in place can be designed with a private entrance, bedroom, bath, and kitchenette.
Private Spaces for Each Generation
Private spaces for each generation are essential under one roof to ensure functional living areas and optimal privacy. These designs work especially well when young adults with small children live with older parents and grandparents who require more quiet time and privacy. For elderly grandparents who are aging in place, loud noises and daily disruptions can create anxiety and sleeping problems which may impact other health issues.
Apartments Within Single-Family Homes
Having zoned living spaces with separate entrances for different family members can be a big plus. In addition to providing privacy, this type of design offers a homeowner the possibility of isolating a space from the rest of the house. For aging adults or younger adults this living arrangement allows them to maintain independence and privacy, but still have support when needed. In larger multi-generational housing floor plans, two-story additions might include an 800 square-foot living area with a one-car garage and a small private yard.
The Benefits of Living Under One Roof
Multi-generational living is basically a home within a home, and it presents an array of benefits to household members. You get to share the comfort of your home with loved ones while also sharing financial and logistical benefits. Cutting costs on household expenses, putting more money in savings, and sharing in special family moments that will be remembered for a lifetime are benefits that family members can enjoy.
When several family generations live under one roof, family members might receive benefits from multi-generational living such as:
A Shared Mortgage – With one shared mortgage, there is no need to pay a secondary rent or elderly housing costs. The actual homeowner, as well as other family members, will save money on housing costs.
Shared Utilities – Multi-generational housing provides two or three separate living spaces, but only one utility bill. Family members can divide up the bill as they see fit to accommodate everyone's financial needs.
Shared Maintenance – Home maintenance can add up to thousands of dollars each year, but it must be done to keep the house in good condition. The annual costs for yard work , painting, plumbing repairs, and a new roof can be significant savings when maintenance costs are shared.
Flexibility – You can designMulti-generational floor plans to easily accommodate your changing needs and lifestyle. Creating a flexible space whether it includes a garage space for your son, a home office for you, or a separate living area for Grandma. Spaces can be used for other purposes if living arrangements change.
Fewer Travel Expenses – When multiple family generations live together, travel and transportation expenses decrease. There's no need to spend hundreds of dollars on a plane trip to visit your parents or grandparents when they're living right next door.
Higher Resale Value – According to demographic trends, multi-generational housing is something that many buyers are looking for today. Many home buyers are thinking about the conveniences and savings that living under one roof provides. For millennial buyers with aging parents, these home designs provide a perfect solution for aging in place healthcare.
The Future of Multi-Generational Living
Although it's impossible to predict exactly what houses of the future will look like, the growth of multi-generational living requirements has caught the interest of many remodelers, builders, and homeowners. With an uncertain economy and rising housing costs, multiple family generations living under one roof makes a lot of sense. What better way to stay close to family and possibly cut down on housing expenses at the same time?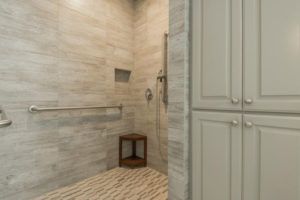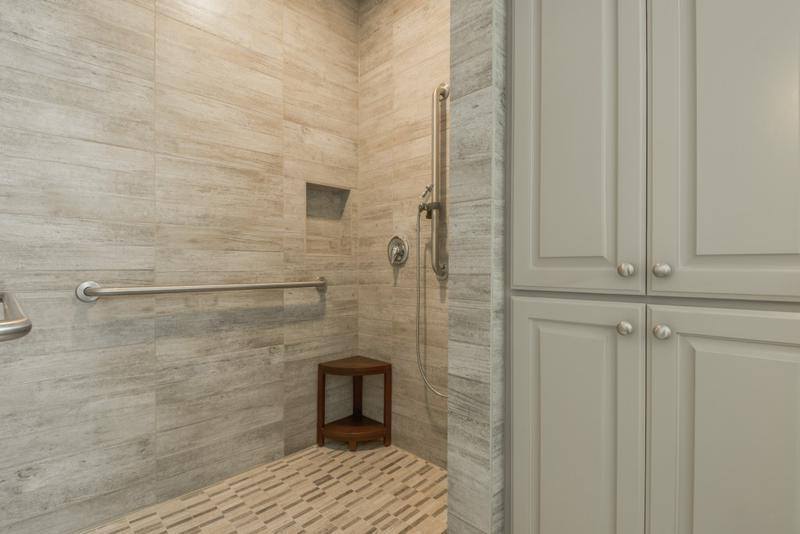 At DFW Improved, we have seen a growing trend in Texas and other states across the country for multi-generational living. The idea of communal living and keeping the family together seems to have growing appeal for homeowners of all ages. Younger home buyers are motivated by ways to save on housing costs, while the family benefits of aging-in-place intrigue middle-aged and older buyers. A variety of age groups are enthusiastic about staying close to family members and having family support. Young people no longer feel a sense of shame by returning home to live with their parents. Parents want to spend more time with their children, and grandparents want the opportunity to watch their grandchildren grow up.
As one of the leading home remodelers in the North Dallas area, we see a big future for multi-generational spaces. We offer privacy for separate families, state-of-the-art amenities, financial savings, and a shared lifestyle with generations of loved ones. What more could you want in a home? We can help you create a functional multi-generational living environment that fits your design taste, lifestyle, needs, and budget.
To get inspired by home remodeling ideas and pictures of our most recent projects, visit our Photo Gallery or connect with us on Pinterest, Facebook, or YouTube to learn more.