The bedroom is your sanctuary. It is the room that you start your morning in and come to relax in at the end of a long, hard day. Carefully planning the design of your master suite will help you make sure you have everything you want and need to create a relaxing atmosphere. Whether you're remodeling or planning a custom home build, keep these bedroom essentials in mind.
Table of Contents
A Place to Rest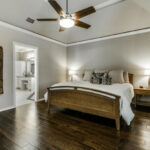 The bed is the centerpiece, and arguably the most important part, of any master suite. Naturally, choosing the right bed for you is crucial. This day and age, there are hundreds of great options to choose from. A pillow top, adjustable bed, or memory foam mattress are all great ways for you to get maximum comfort and a good night's sleep.
The frame that you choose should speak to your personality and the style of your room. For a zen-like atmosphere, opt for something low to the ground. If you'd like an air of opulence, a four poster or sleigh bed may be just what you're looking for. And a tufted velvet or leather headboard will give the appearance of a high end hotel.
A Sitting Area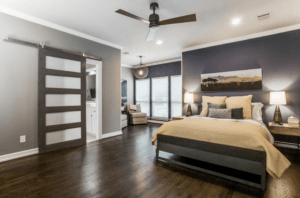 Today's master suite is not just for sleeping. Your bedroom is your place to get away. So, it's only fitting that you furnish it with a cozy place to sit. A love seat or club chair tucked into the corner provides a cozy place to relax. Add a small side table and a lamp, and this may become your new favorite spot for reading or enjoying your morning coffee.
Textiles and Textures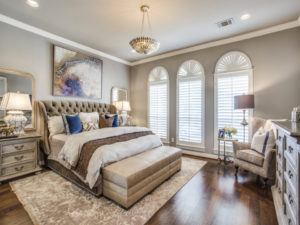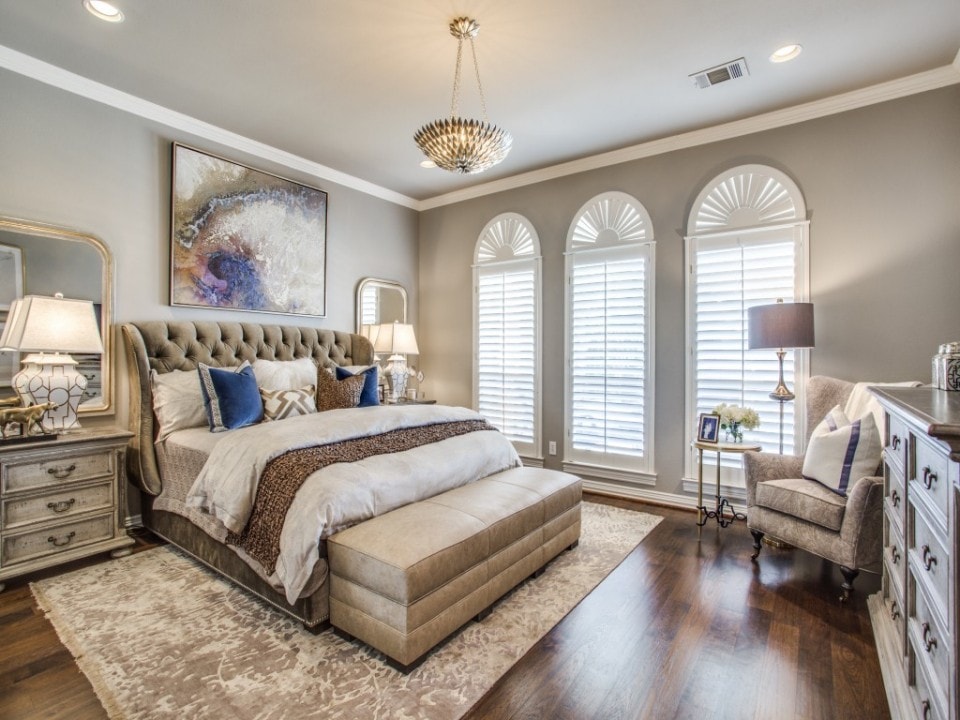 The textiles you choose to dress your room in can make or break your space. Invest in high thread count, organic cotton sheets for your bed. A down comforter can keep you warm on cooler evenings. A stylish duvet sets the tone and style of the room. Wool or chenille blankets and a plush rug add some texture, color, and make the space a bit more cozy. And, don't forget about the windows! Window treatments tend to change with the seasons. In the warmer months, opt for linen or sheer drapes for a light and airy feel. In the winter, velvet and silk make for more luxe window treatments.
Custom Closet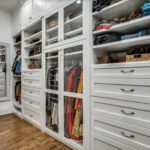 Nothing says organization like a custom walk-in closet with incredible storage options. Closets are extremely customizable and allow you to clear the clutter and conveniently store all of your belongings in a way that works well for you. Include floor-to-ceiling shelves, drawers and rods to give yourself as much space as possible. A dressing area gives you a place to get ready in the morning and wind down at night. And, to take it to the next level, add a full-length mirror, shoe racks, and accessory trays.
A Fireplace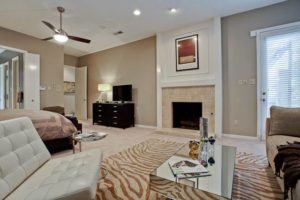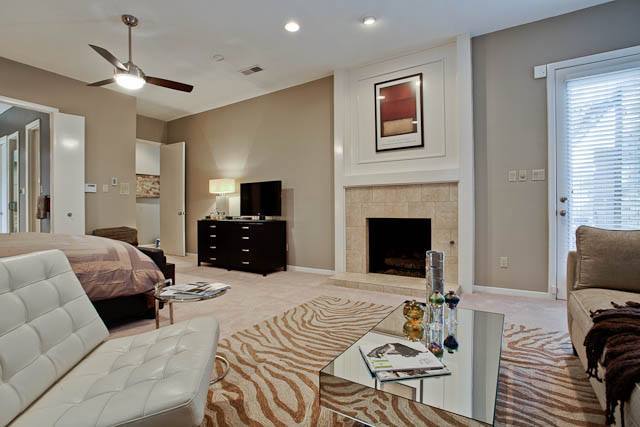 No matter what time of year it is, there's nothing more relaxing than a crackling fire. Fireplaces in the bedroom come in many different styles and sizes, and can add the finishing touch to your space. Consider a stone or brick fireplace, a wood-burning stove, or even a two-sided fireplace in between your bedroom and bathroom. Whether it's electric or is powered by wood or gas, a fireplace can create a relaxing and romantic atmosphere.
French Doors
Adding french doors leading out to your balcony or outdoor living space is a great way to brighten and open up your bedroom. They allow more light to pour in, making your room seem much larger. And opening them on a beautiful, sunny day can lift your mood and let in some fresh air.
Coffee Bar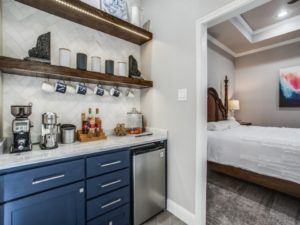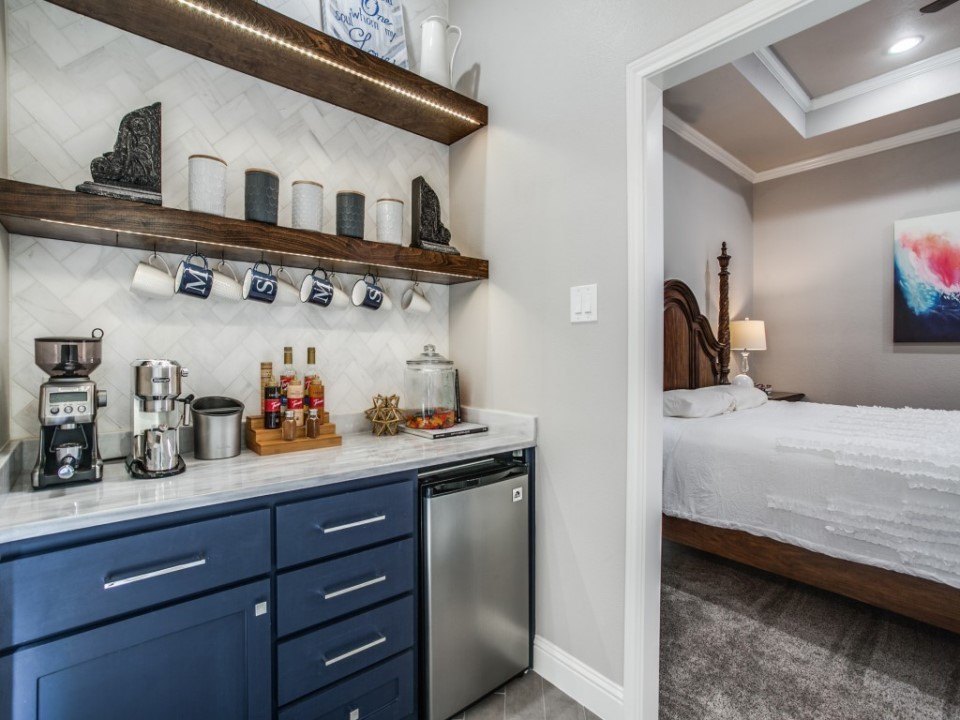 Gone are the days of traveling to and from your kitchen for your morning coffee. By adding a coffee bar into your design, you can brew and enjoy your cup of jo right in the comforts of your master suite. Include features such as a sink and a small refrigerator. Shelves and cabinets can help you store your coffee grounds, mugs, and utensils. A small countertop provides a place for you to put your coffee maker, tea kettle, and other appliances. With the right features, your coffee bar can be the perfect place for you to start your day.
Artwork and Decor
Whether you have a large abstract print hanging over your bed or a lot of small framed family pictures, artwork and decor will help complete your space. Your bedroom is where you start and end each day. Make sure what you choose to fill it with will make you happy and bring joy into your space. Take your interests and personality into consideration when styling your master suite.
Extra Space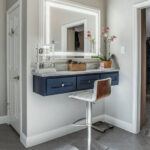 Some master suites have extra space that the homeowners don't know what to do with. Instead of leaving it unused or filling it with clutter, consider turning it into:
An at-home gym
A study space
A vanity station
A reading nook
Learn More: Maximizing Your Small Spaces
Great Lighting
In the bedroom, lighting can help you wake up in the morning and relax at the end of the day. Many designers say that you should have three points of light to complete the space. Bright lights should be in the dressing area. Soft lighting should frame the bed to set the mood at the end of the day. And a standing lamp should light your sitting area or any dark corners.
Your master suite should be a place of relaxation and comfort. Whether you're enjoying your morning coffee or are winding down with a good book at the end of a long day, implementing these design features can help turn your space into one you want to spend time in.
Related Images: