If you've been living in your home for a significant amount of time and your family has grown, you may feel like you're bursting at the seams. What once seemed like a roomy place now feels claustrophobic and cluttered. But, don't log on to Zillow just yet. A renovation could solve your problem for far less money and without the upheaval and stress that comes with a move. From bathrooms to utility closets, here are a few of our favorite tips and tricks to amplify your space.
Table of Contents
Bathroom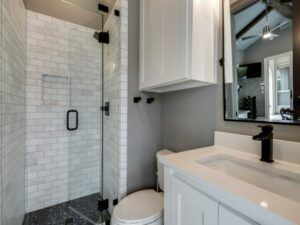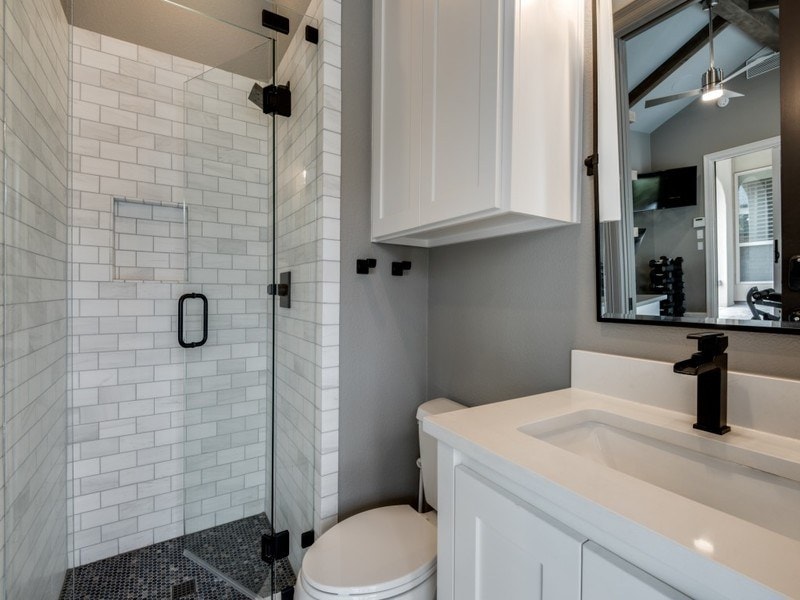 Small bathrooms can seem cozy and efficient, but they can also become cluttered and appear dirty much easier. When expanding and enlarging your bathroom isn't an option, here are some ways to improve the space you have.
Learn More: Create a Statement In Your Powder Bathroom
Go Neutral
When choosing your color palette for the bathroom, try to stay on the lighter side of the spectrum. Pops of color definitely keep things interesting, but soft, pale colors tend to give the illusion of more space. When it comes to the backdrop of your bathroom (the floors, walls, and ceiling), try to stick to whites, pastels, and neutrals.
Pedestal Sinks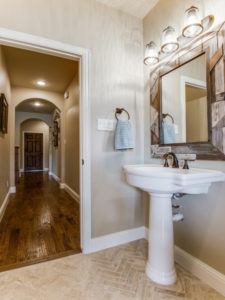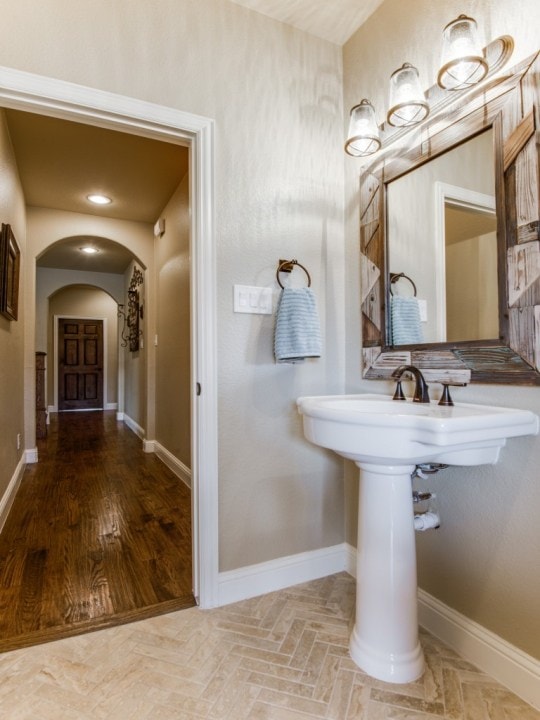 Bathroom vanities are great for storage, but can take up a lot of space. If hard cabinetry makes your bathroom seem small, try swapping it for a pedestal sink. This will help open up the space and make it seem much larger. If you find yourself needing more storage, consider adding a small shelf or basket, or organizing a nearby linen closet.
Expand the Ceiling
Of course, actually expanding the ceiling is often not possible. But painting a lattice or installing crown molding in the same color as the ceiling can help give the appearance that the bathroom is taller than it actually is.
De-Clutter
A cluttered space will automatically seem much smaller than a clean, organized one. If you find yourself surrounded by clutter, it may be time to get organized. Throw away expired cleaning supplies, toiletries, and cosmetics to help you create more space, and only keep the essentials out and visible. Store everything else under the sink or in a nearby linen closet.
Mudroom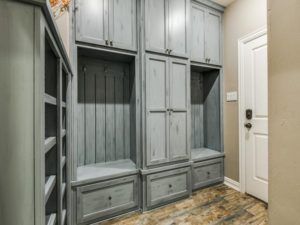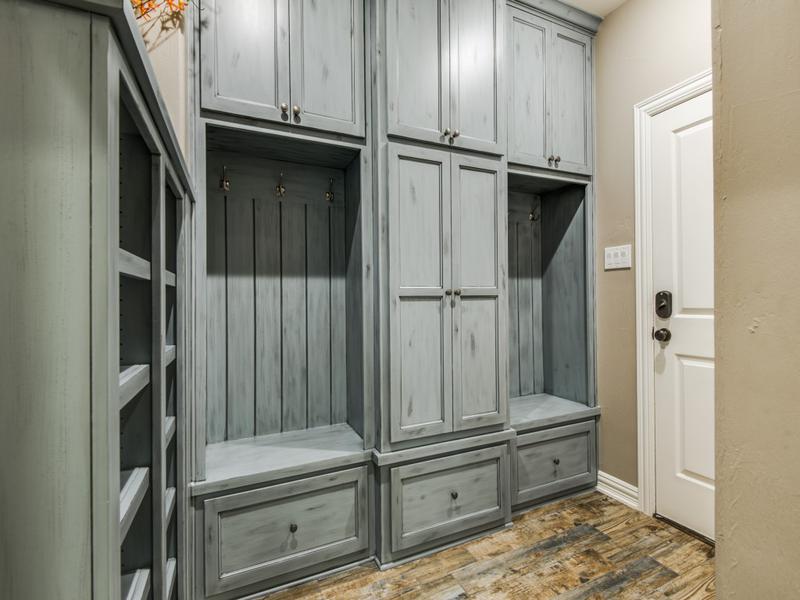 There's nothing like springtime in Texas to get homeowners longing for a mudroom. After a good rain or trudge in the garden, it's a struggle to head back inside without making a mess. Every family, especially one with kids, needs a place where they can shuck off their muddy shoes, boots, and sports gear to avoid tracking the outdoors, in. Whether you have a large or small space to work with, a mudroom is a great solution.
Learn More: 7 Elements of a Magnificent Mudroom
Prime Location
Whether you're utilizing an already existing area in your home, like a laundry room, or building a new addition, a well-situated mudroom can drastically reduce the amount of cleaning that has to be done. When choosing its location, consider placing your mudroom where your home gets the most traffic and activity. Typically, most mudrooms are conveniently located near the garage, just off of the backyard, or through a side entry into the home.
Layout and Design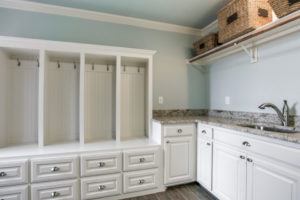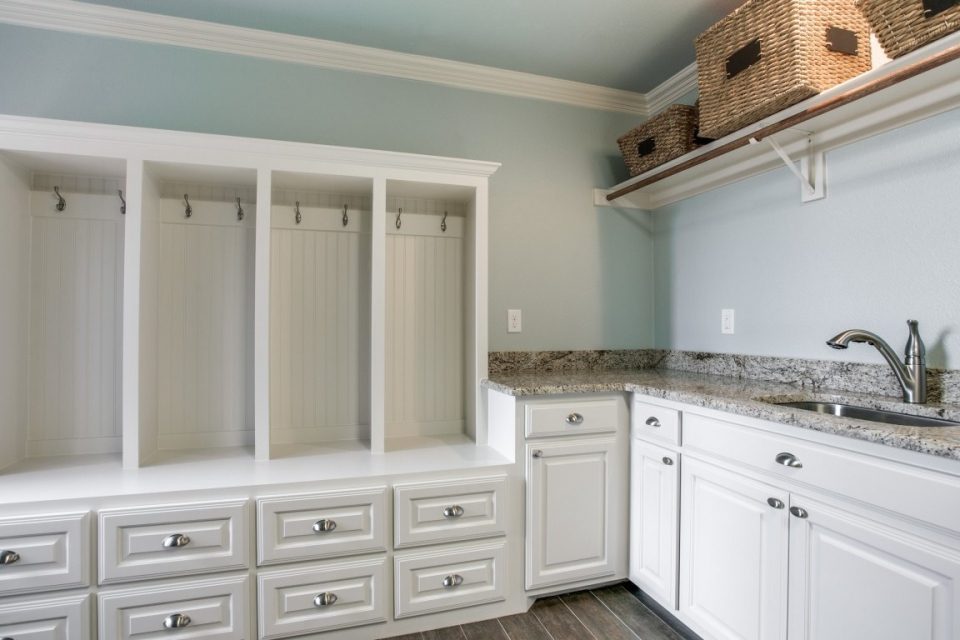 The layout and design of your mudroom is extremely important, especially if you're working with a small space. Take a look at the activity level of your family. What will you use your mudroom for most? Shoes piled right by the door may not be the most convenient setup. With durable, easy-to-clean floors, they can be placed elsewhere to avoid becoming tripping hazards. If storage is your main priority, focus on filling most of the space with cabinets and shelves to help you get organized. (This means you have backup storage for the bathroom you just decluttered!)
Some busy families enjoy the convenience of a combined mudroom and laundry room. Others simply need a place to leave their dirty shoes and hang their wet rain jackets when they arrive home. The layout of your space should reflect your family's needs, and in a small space, you want to utilize every inch.
Extra Features
As you're choosing features for your mudroom, consider things that will rid the clutter and bring ease and simplicity to your life. Incorporate hooks and racks for hanging things like coats, hats, scarves, and umbrellas. A bench can double as both a place to sit to remove muddy shoes and a storage solution, with a folding lid top or baskets underneath to corral miscellaneous items. A small pantry or closet can easily store seasonal decorations or other belongings that are used infrequently. And be sure to include a utility sink and cabinets for things like gardening tools, sports equipment, and cleaning supplies.
Laundry Room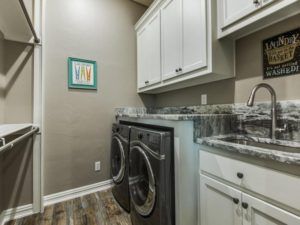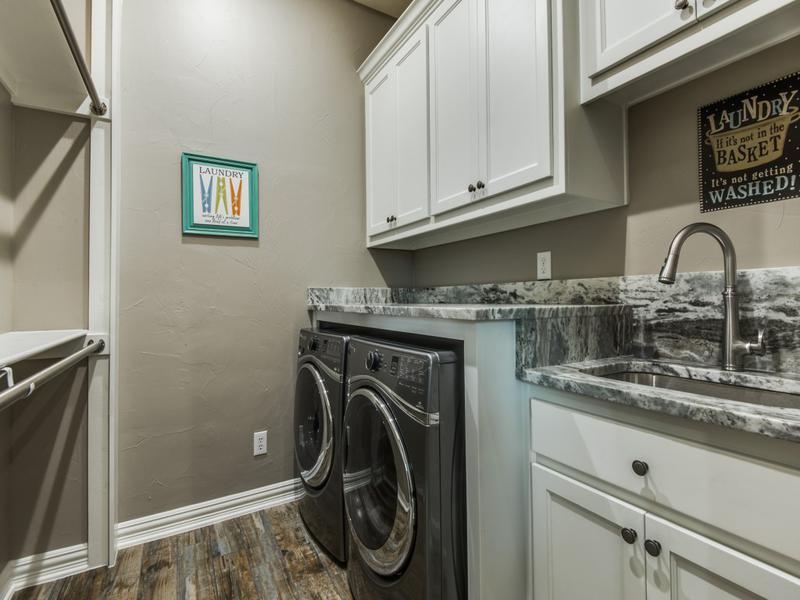 Your decision to have a separate or combined mudroom and laundry area is dependent on your preferences and space constraints. But there's no doubt that an updated laundry room, no matter the square footage, can enhance the value of your home and make your life much easier. When designing your dream laundry room within limited space, consider these key elements.
Strive for Efficiency
Regardless of its size, a laundry room should bring efficiency and simplicity to your life. Picking an energy-efficient washer and dryer can help you save money on your water and electricity bills. If you live in a two-story home, a laundry chute is a great way to enhance your laundry routine and get rid of those piles of dirty clothes throughout your house. Adding even a small section of counter space gives you a place to fold your clean clothes. If space allows, incorporating other elements such as a collapsible hanging rack and a utility sink can take your laundry game one step further.
Innovative Storage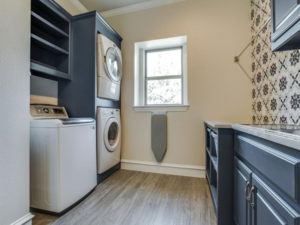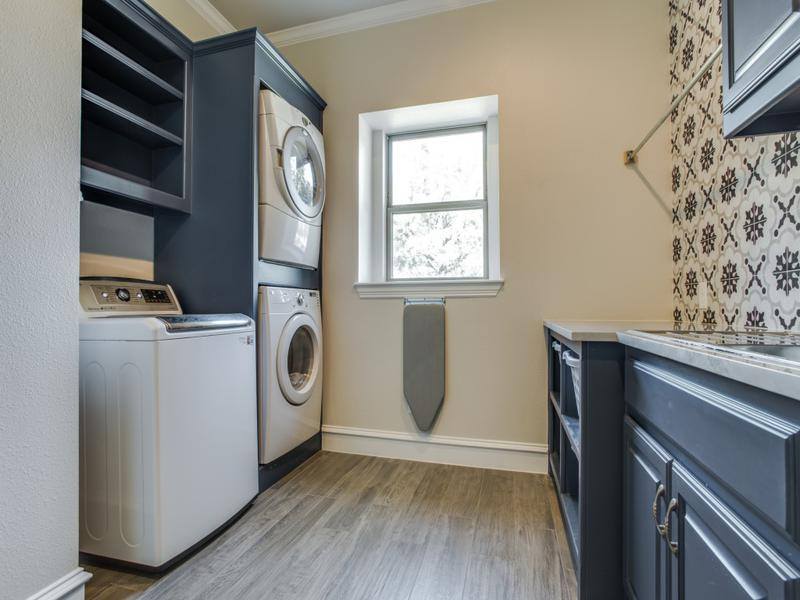 With smaller spaces, you often have to be innovative when it comes to storage. If you don't have the room to build out, build up! Install cabinets on the walls above your washer and dryer to store cleaning and laundry supplies. Open shelving on empty walls can provide even more storage options. And, if you have room for it, a small closet or pantry can hold bulky items like spare comforters, blankets, beach towels, and out-of-season clothing.
Light It Up
Natural lighting is great, but sometimes isn't enough when it comes to your laundry space. This is especially true when you're wanting your space to seem larger. Energy-efficient bulbs in task lighting fixtures brighten and open up your space, allowing you to easily see the washer and dryer settings. With good light, you can also catch and tend to any stains or tears in the fabric of your clothing.
Study Space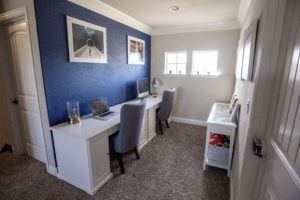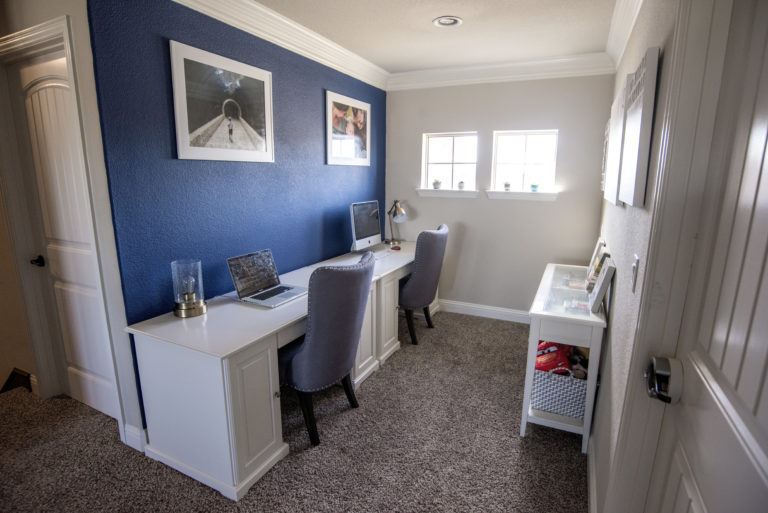 A study space doesn't need to be created in its own room for it to be efficient and fully functioning for you and your family. There are many different areas in a home that can house a productive study space.
Think Outside The Box
If you don't have an extra room to design a study space, try thinking outside the box. Transform the area under your stairs into a cozy study nook. Take out the hanging rods in a small closet in your bedroom and add a desk for an easily concealed study area, complete with a table lamp and personal decor. Consider adding a few shelves and a desk to an empty corner, extending your kitchen counter, or even setting up a small table against a blank wall or within an alcove.
Learn More: Study in Style
Keep Things Organized
In a small space, keeping things organized is essential. Built-in bookshelves or small shelving units situated against the walls can help keep clutter to a minimum. If you're lacking wall space for a bookshelf but could really use the storage, consider installing a swinging or hidden bookcase. The feature doubles as a door within an entryway, maximizing valuable square footage.
Incorporate small containers or baskets to help catch office and school supplies. And don't forget about installing electrical outlets to help charge your electronics and power your laptops or computers.
Closets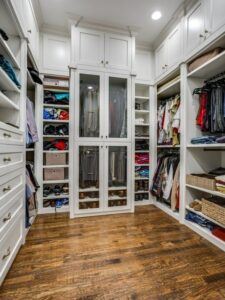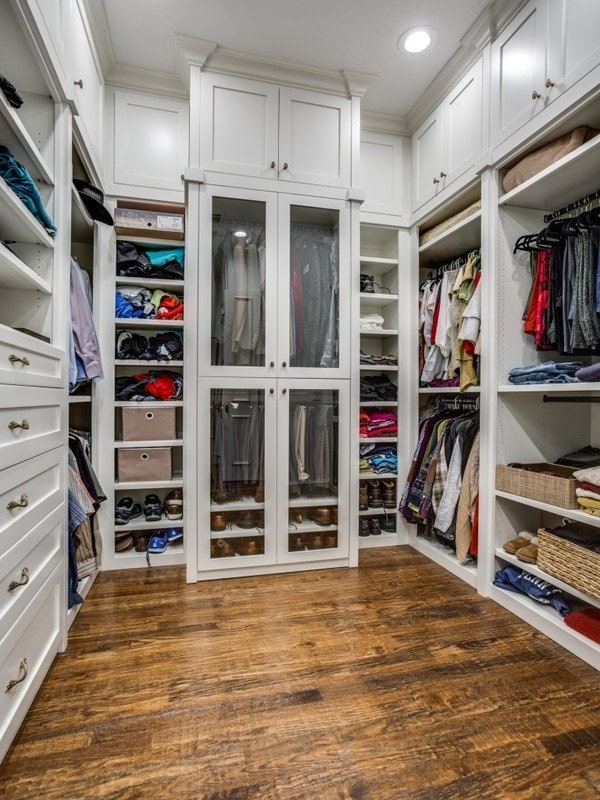 Closets come in all different sizes, and can seem difficult to enlarge or improve. But with a few tweaks and minor renovation projects, it can go from cramped to custom in no time.
Sanity-Saving Storage
If the only features you have in your closet are hanging rods, trying to make everything fit can be quite the task. Consider installing shelves and drawers to better optimize your space. Store your shoes in a hanging shoe tree or in stackable containers. Hang hooks on the back of the closet door or on empty wall space to hold hats and bags. If you have the room for it, why not add an island equipped with drawers and organizational trays to hold your accessories and smaller clothing items?
Sort it Out
Of course, sorting through your belongings can help you decide whether there's anything you can donate or move to a seasonal storage closet, clearing up some much-needed space. For efficiency, consider sorting by color, style, and purpose. Use specialized hangers for things like ties and pants. And, if you can't expand, look up. Many closets have unused space above the hanging bars where you can add extra shelves, cubbies, or drawers.
Pantry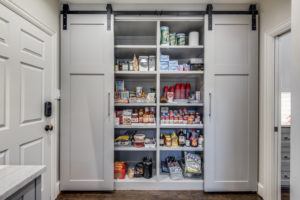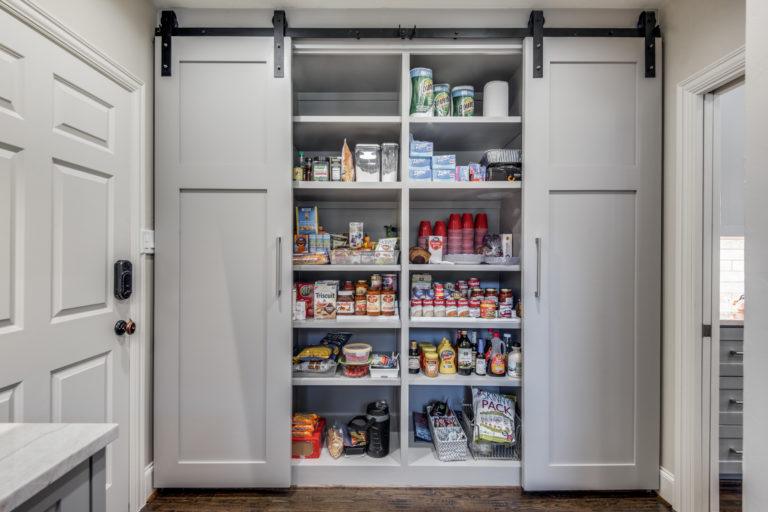 One of the most desirable kitchen features is maximum storage space. Between pots and pans, cooking and eating utensils, dishes, and the food itself, there's a lot to fit into one room. If renovating your entire kitchen isn't in the cards, try spicing up your pantry to help increase your storage capabilities.
Max It Out
When it comes to making the most of a small pantry, you want to do what you can to use every inch of free space. Try adding undershelf baskets to create space below the already existing shelves. Wire racks can be installed on the back of your pantry door to hold spices, oils, and other cooking ingredients. Use organizing racks to help neatly stack re-usable containers and lids. Sort the items in your pantry by category, and store them in labeled baskets or containers. And make sure you don't forget about the floor space. Add a few wire drawer units for fruits and vegetables, or stackable shelves for things like canned goods, tin foil and sandwich bags.
Get Creative
Pantry food and cooking ingredients come in all shapes and sizes. This can make efficiently utilizing your pantry space pretty difficult. Consider storing things like cereal, sugar, flour, rice, and pasta in clear, air-tight storage containers. This not only makes each item easy to identify but also maximizes your shelf space. And, if you have a walk-in pantry, don't be afraid to use any empty wall space. Store bottles and tumblers in a hanging shoe rack, install a few extra shelves or use hooks to hang any bagged items to keep them from getting squished and clear up shelf space.
Doorways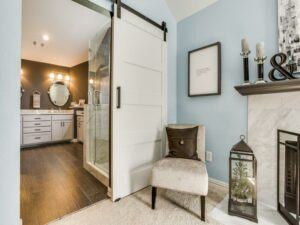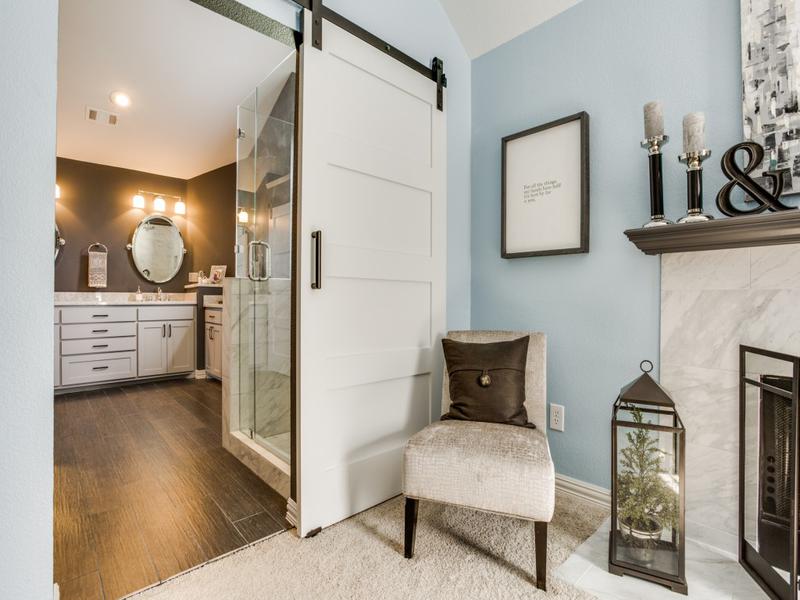 The amount of swing room doors require isn't usually the first thing on our minds when looking to save space. But, on average, a door needs at least 3 feet to be able to swing open and shut. Thankfully, sliding doors have provided a stylish and space-saving solution. For a rustic farmhouse look, consider a sliding barn door. If you want something a little more discrete, pocket doors – particularly popular for bathrooms – can be hidden within the walls and pulled out only when they're needed. Using a sliding door, especially in small areas, can be a real space saver.
Getting an Estimate
From a change in layout to choosing the best materials to the overall design of your new space, every project, regardless of its size, is unique in its own way. For this reason, we offer free site visits, giving our contractors the opportunity to view the workspace in person before starting renovations. This helps them see whether or not the projects and ideas being requested are practical and doable for the available space. It also makes it much easier to give the client a quote and ensures they are getting the best possible service we can offer.
Make The Most Of It
By working with a licensed professional contractor, you can optimize and improve the space you already have in your home. Repurposing existing space can modernize and add value to your family's home, without forcing you to completely relocate. At DFW Improved we can help you transform your small spaces into functional and efficient features that you'll be happy to use and proud to show off.
Related Images: