A new decade means new #homegoals, and in 2020, it's all about attention to detail. Move over, farmhouse chic – it might've been one of the hottest trends in 2019 but we're going big and bold this year! If you're considering a kitchen remodel, here are 20 of the top kitchen design trends of 2020.
Table of Contents
Marble and Quartz Kitchen Countertops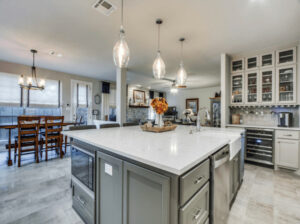 When selecting countertop materials to update your kitchen, it's important to choose what fits well with your lifestyle, is easy to maintain, and complements your kitchen style, colors, and finishes. Marble is a beautiful choice, but is porous and can be prone to staining. Quartz, on the other hand, is non-porous and stain-resistant. It is easy to maintain, can be cleaned with warm water and soap, and never needs sealing. Incorporating either of these into your space can completely transform the look of your kitchen.
Learn More: Things to Consider When Planning a Kitchen Remodel
Kitchen Ceiling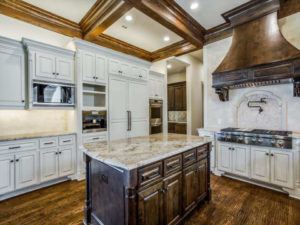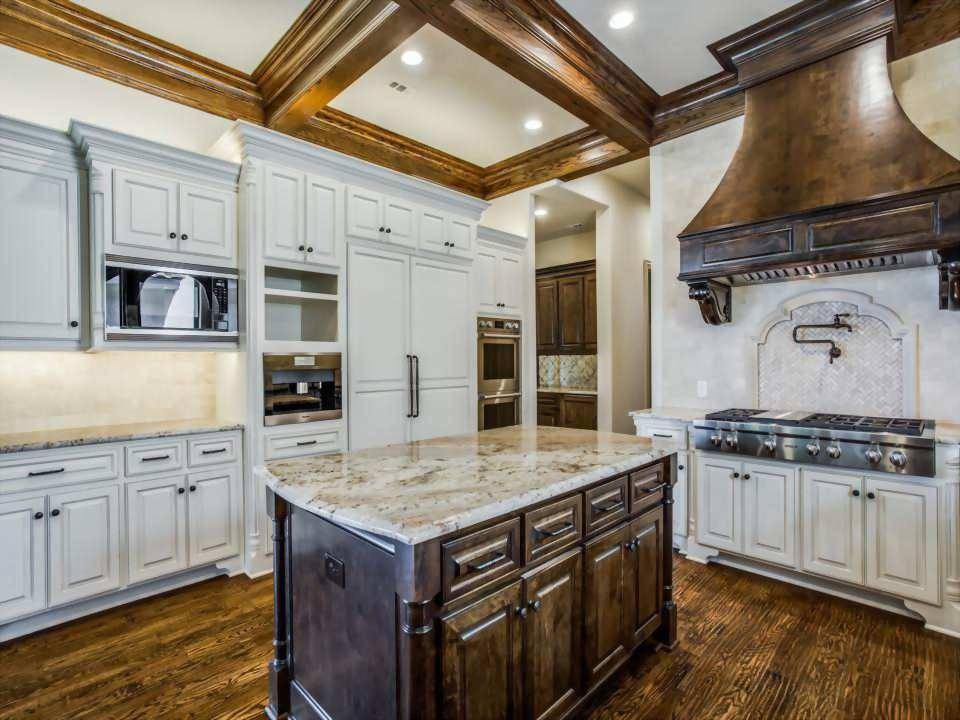 When you want to keep things neutral but still get creative, shoot for the stars—or in this case, the ceiling. Wood or metal beams can help add color, contrast and architectural interest. Wallpaper can create a beautiful and eye-catching statement. Wood paneling can help bring warmth, charm, and drama into your space.
Mix & Match Metals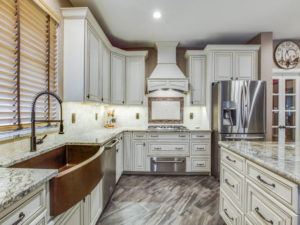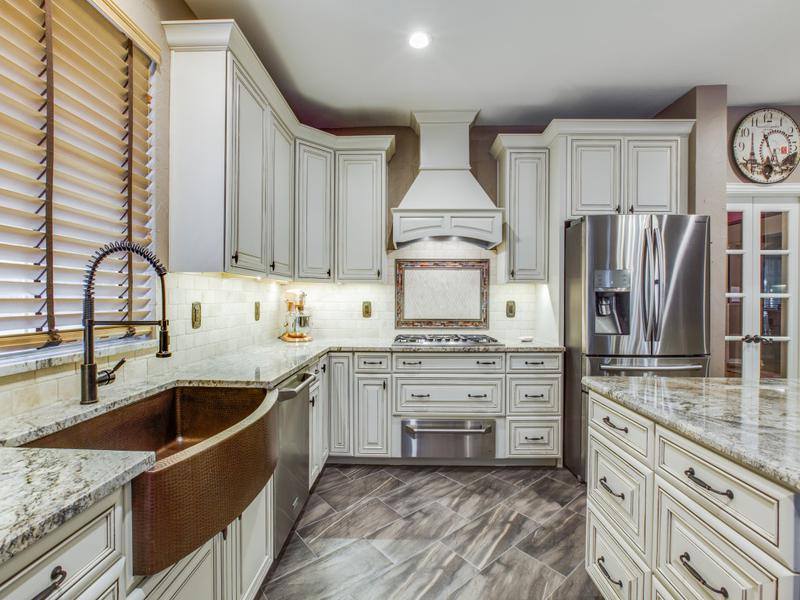 2020 is all about mixing and matching kitchen design details, especially when it comes to your heavy metals. Consider elements like pewter faucets, nickel knobs, brass light fixtures, and copper accents. Don't be afraid to experiment with different color tones and finishes within the same room.
Natural and Reclaimed Wood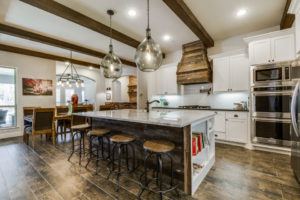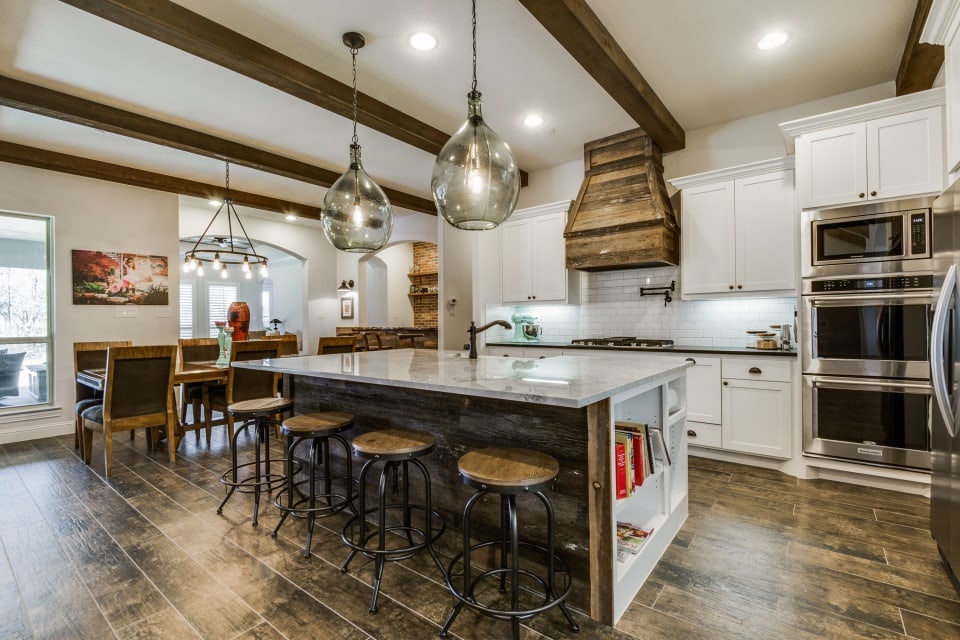 We may still be seeing stained and painted woods in this year's kitchen designs, but we're also seeing a lot of it in its natural state. Untreated wood beams can be a real showstopper, especially when contrasting against a light kitchen. Top your kitchen island with some natural wood with a beautiful, dark grain. Add reclaimed wood planks to the sides of your island, your range hood, or even incorporate them into your cabinets. Natural, reclaimed wood helps create a warm, cozy atmosphere in kitchens of any style.
Open Shelving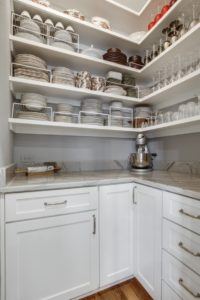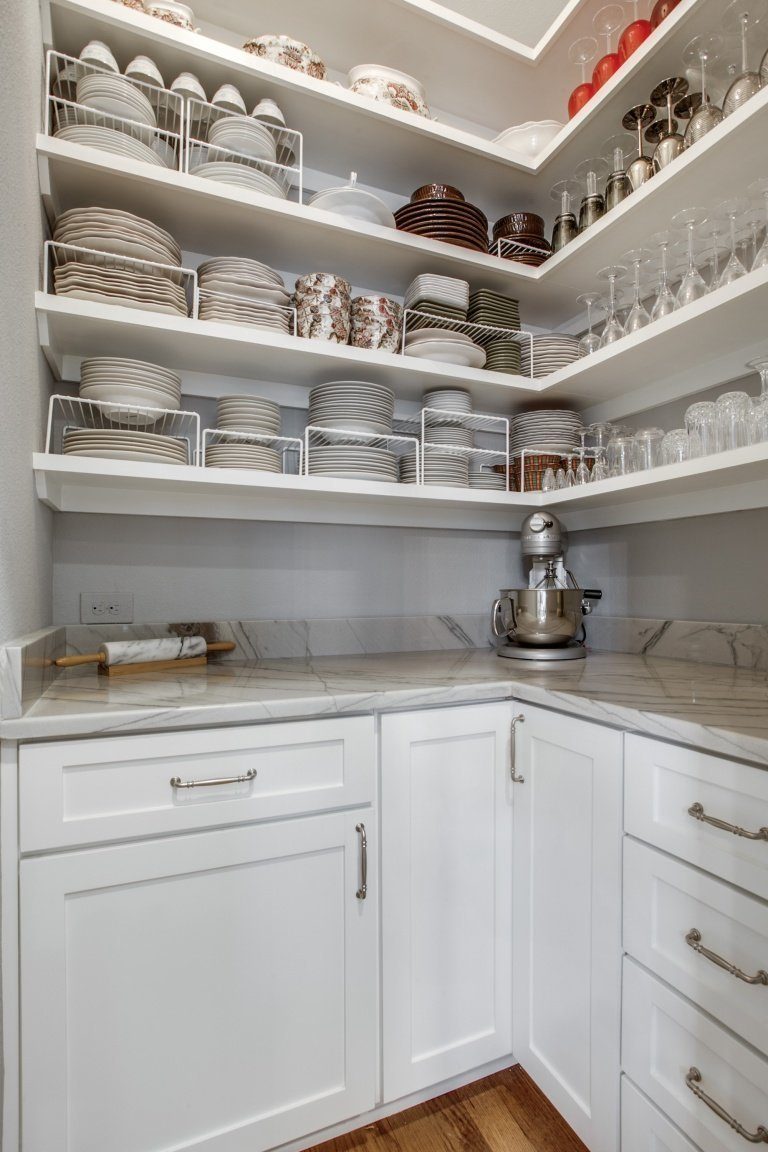 Homeowners everywhere are hearing the buzz, getting rid of their upper cabinets, and are jumping on the open shelving bandwagon. Dark cabinetry is in this year, but it can easily make your space seem dark and smaller than it really is. Incorporating open shelving can help brighten up even the darkest of spaces. It provides an opportunity to add personality to your kitchen space with thoughtfully displayed accessories and decor. Gone are the days of neglecting dishes that get lost in the back of your cabinets. With open shelving, you can showcase your beautiful kitchenware and enjoy the convenience of having the entire shelf and its contents exposed and readily accessible.
Stand-Out Sinks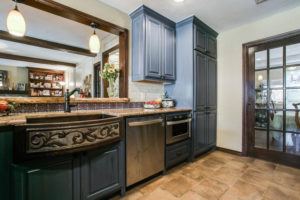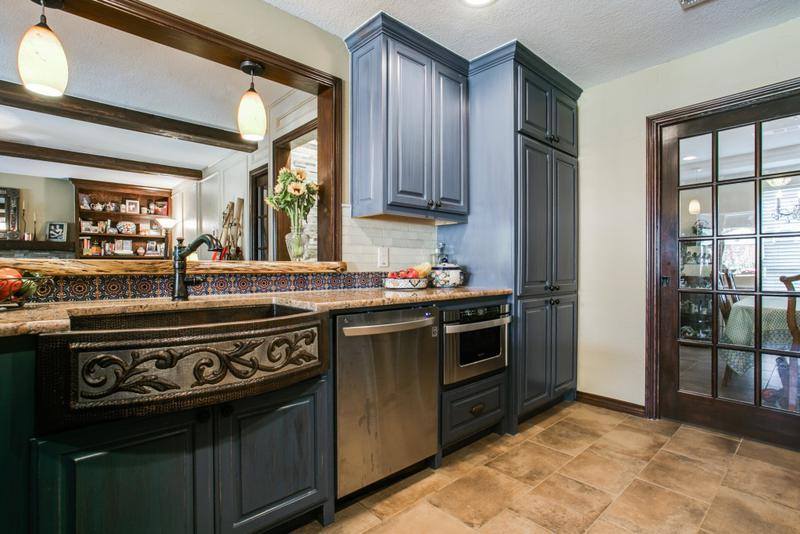 You spend a lot of time using and looking into your kitchen sink. So, why not turn it into a statement piece that actually deserves your attention? An apron-front sink in a farmhouse kitchen isn't exactly a new combination. But a farmhouse sink set in soapstone with brass or copper hardware can be a beautiful and unique conversation piece. Kitchen sinks are no longer limited to certain shapes, sizes, or finishes. In 2020, unique, standout sinks are paving the way for you to express your personal style in your most functional and well-used spaces
Hints of Color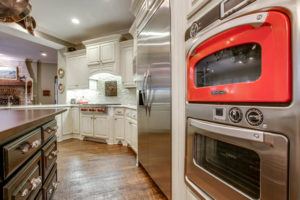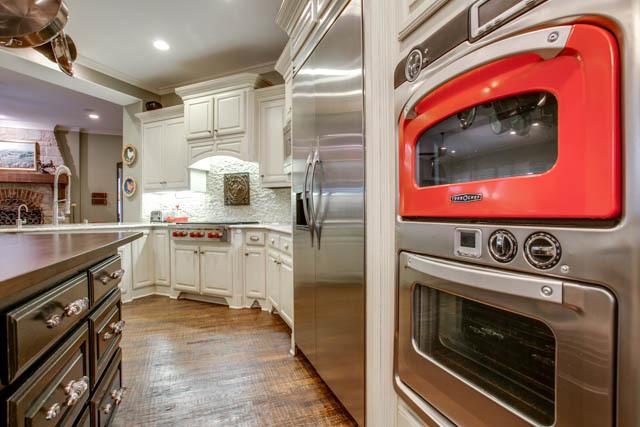 You may have heard – all-white kitchens are on their way out and color is making a comeback. But you don't have to remodel your entire space to stay on-trend. Adding vibrant pops of color may be the eye-catching statement piece your kitchen needs to give it a face-lift. Bring in colorful pieces of furniture, display colored kitchenware or pottery in glass-front cabinets, or give your island a new coat of paint. Open kitchen and living areas – Maximize your living space by making the family room and kitchen one large room. Opening up and combining your kitchen and living areas allows you to be in the middle of the action no matter where you are in the house. A mixed variety of lighting features and flooring helps differentiate the two areas, while a uniform wall color throughout both spaces helps keep everything cohesive.
Pretty Pantries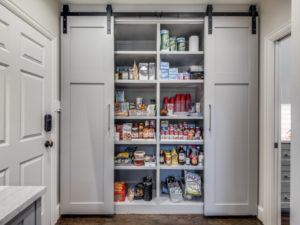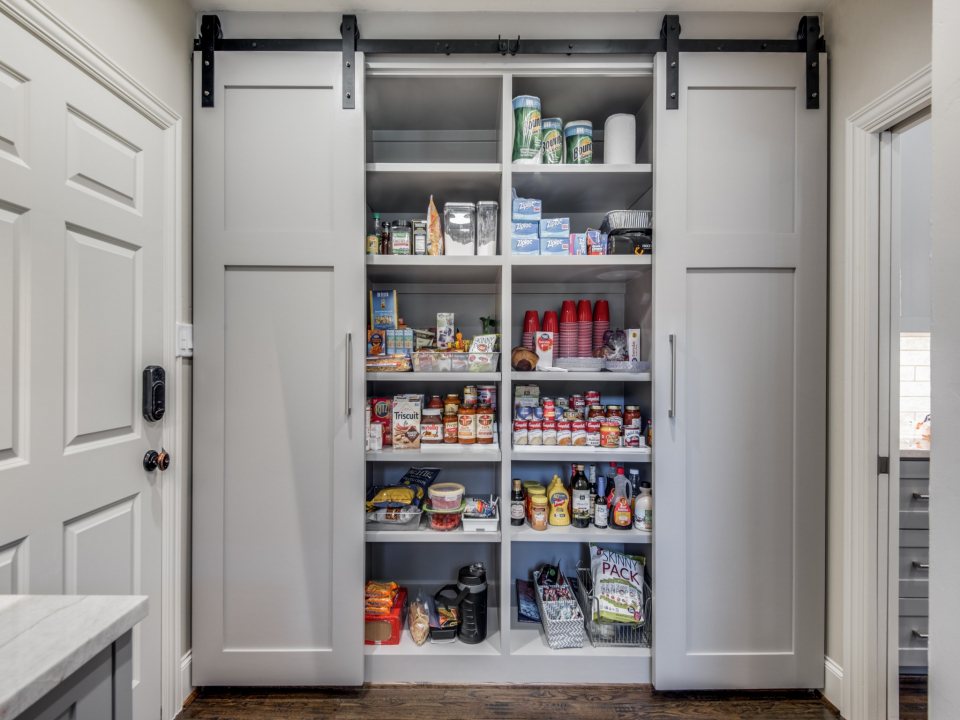 Small, dingy pantries are a thing of the past. Today's kitchens boast roomy, pantries with plenty of shelving for all of your cooking and baking necessities. Save some much-needed space by replacing the pantry door with sliding barn doors. Or, for something a bit more vibrant, install a screened porch door painted in an eye-catching color to bring some boldness to the space and help you show off your impressive organizational skills.
Glass Cabinets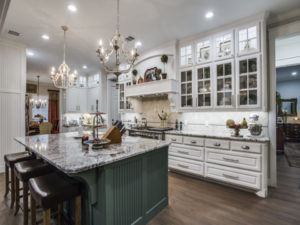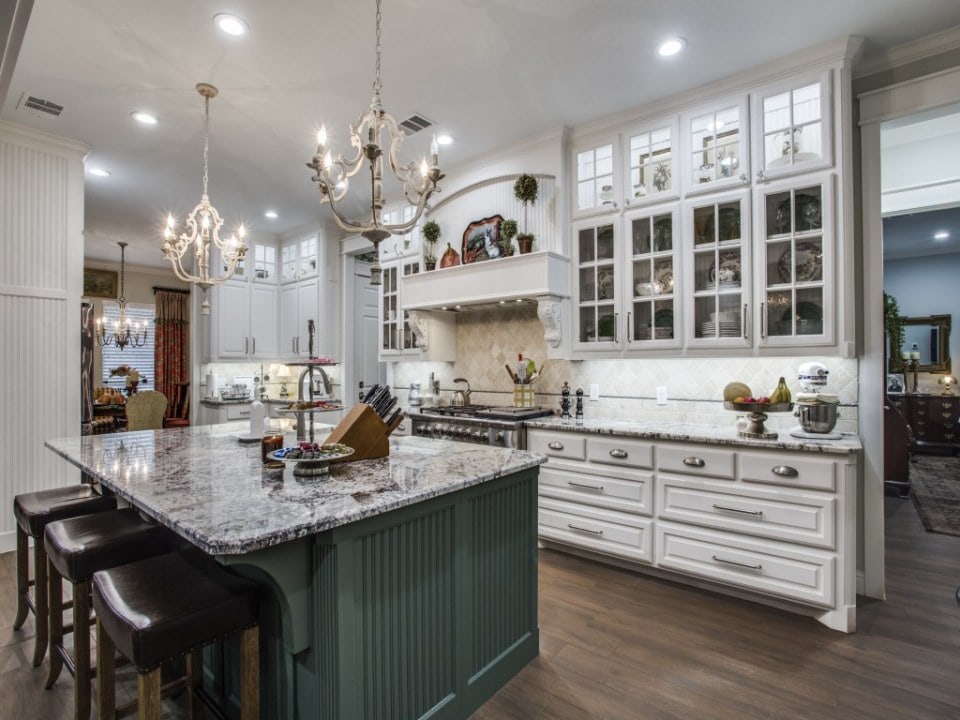 If you're not a fan of the open-shelf trend, why not compromise and go for class cabinets instead? Get rid of those chunky upper cabinets and replace the fronts with glass to add a clean aesthetic and make your kitchen appear larger and more open.
Centerpiece Range Hood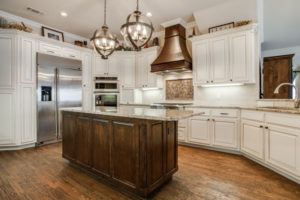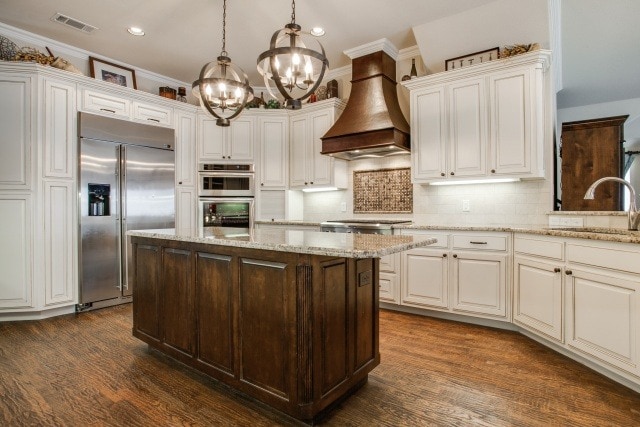 The kitchen design trends of 2020 are all about the details and believe us, they're not being shy! For another bold addition to your kitchen space, consider a centerpiece range hood that stands out from the rest of your design. Whether it's a dark coat of paint against light cabinets or a unique building material such as reclaimed wood or metal, turning your range hood into a statement piece could be the finishing touch on your perfect kitchen remodel.
Dark Floors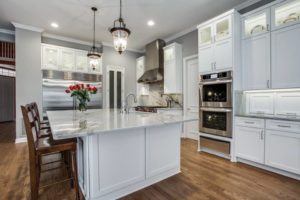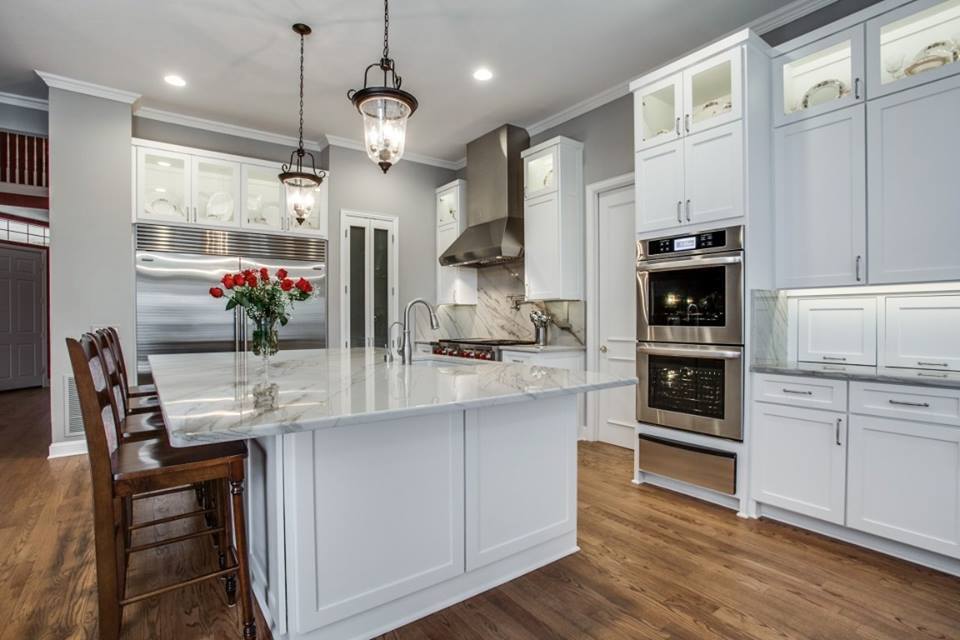 If your kitchen has light walls and cabinetry, consider going with a dark floor stain or tile. This creates a beautiful contrast that helps make your space warm and inviting.
Learn More: Reasons People Renovate Now
Furniture-Like Feet and Detailed Legs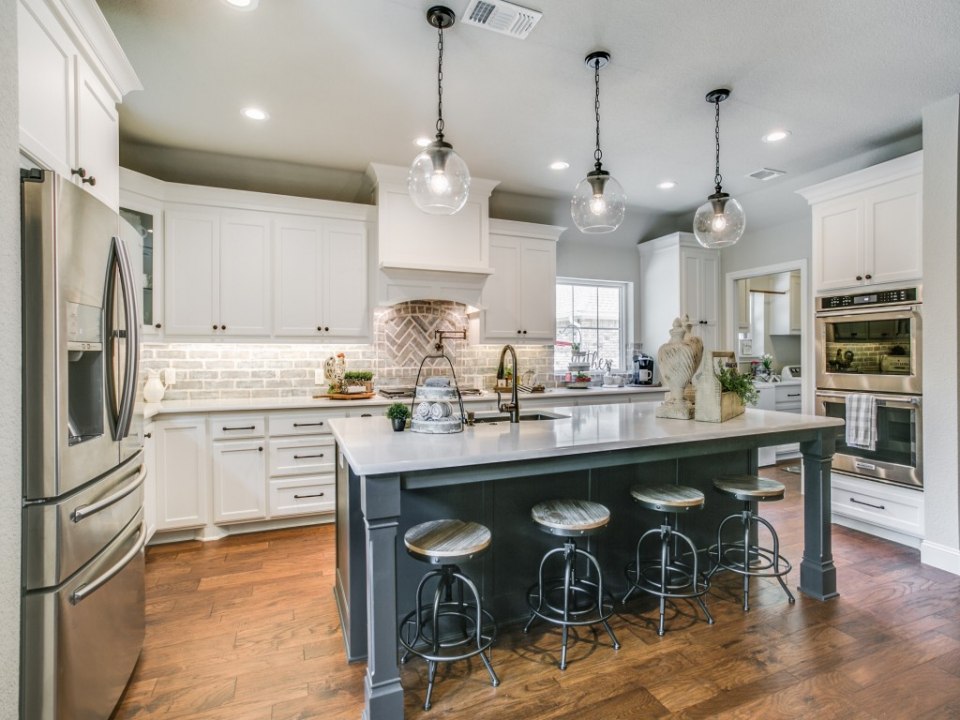 Harsh edges on furniture can give your kitchen the look of being outdated and unfinished. The addition of furniture-like "feet" gives cabinetry a softer, more custom feel, while detailed legs help add character and charm to a transitional-style kitchen
Statement Flooring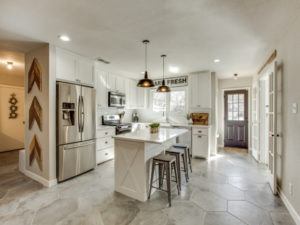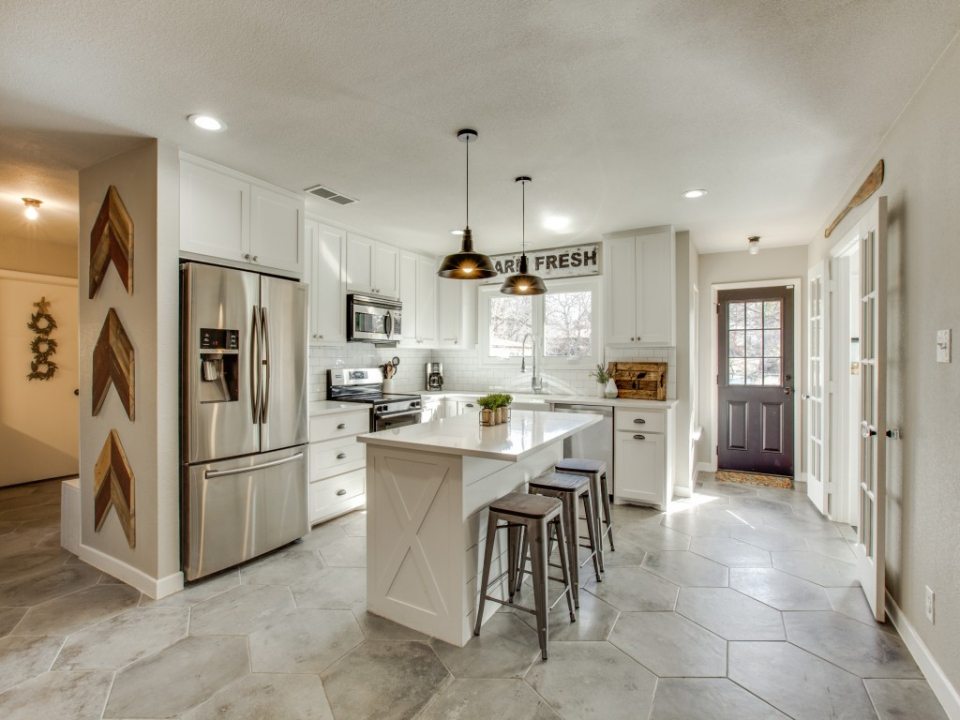 Rugs may be durable, but they just aren't practical for heavy, everyday use in the kitchen. Instead, consider using tile or wood to add a bold pattern or design to your space. Statement flooring is a great, long-lasting investment for kitchens. Tiles arranged in fun and interesting patterns can withstand foot traffic and spills much better than a rug can. Whether you create a symmetrical pattern or sneak a small design into the center, your new floor will surely be a conversation-starter.
Learn More: How to Pick Flooring that Fits Your Lifestyle
Integrated Appliances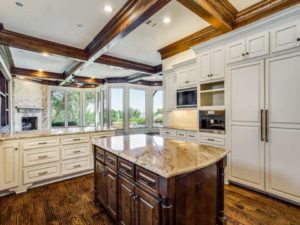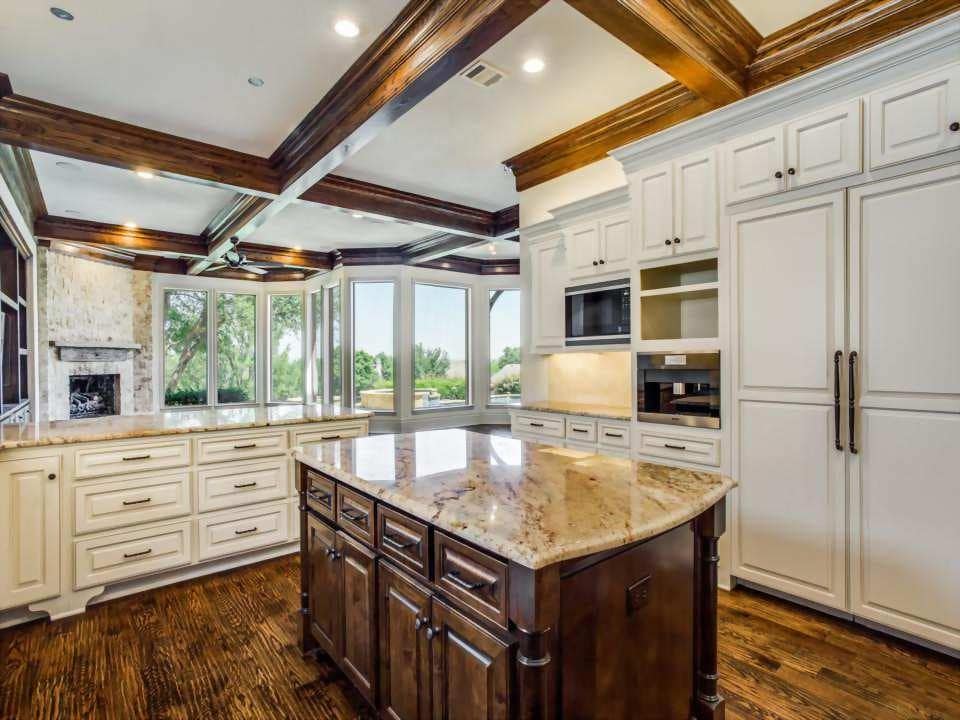 Stainless steel is quickly being replaced by hidden, integrated appliances, and we are loving all of the trendy design options. By adding fronts that mimic your cabinetry, your appliances seem to disappear, giving your kitchen a much larger, more cohesive look.
Under-Counter Appliances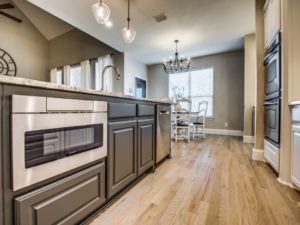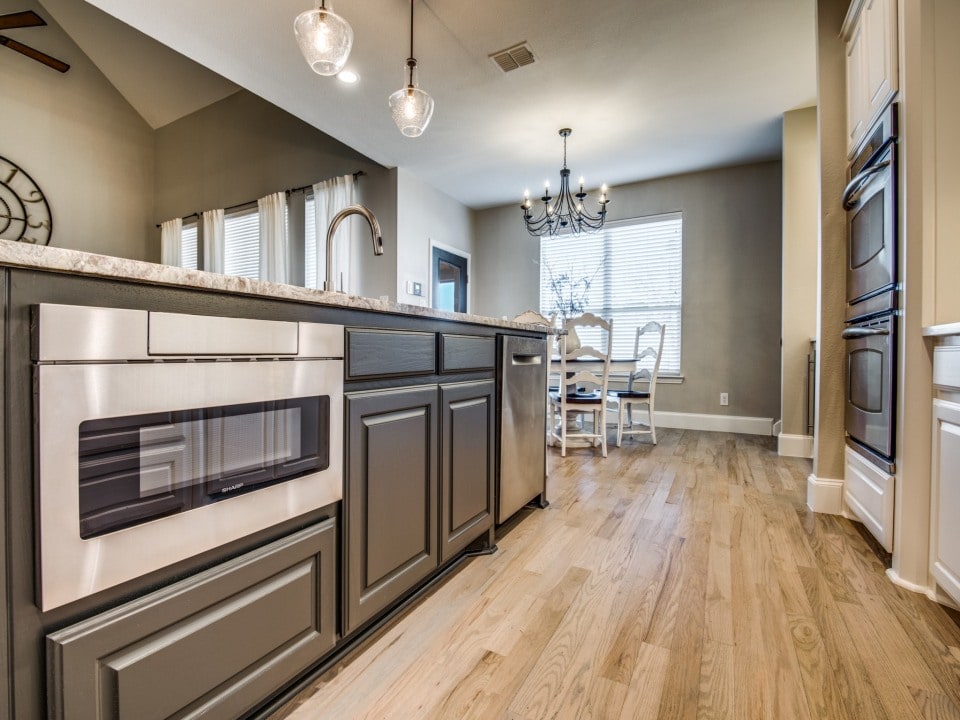 One of the first things homeowners look for when remodeling their kitchen is more space. So it's no surprise that under-counter appliances are trendy. Get rid of that bulky microwave taking up space on your counter and put it in your island instead. Incorporate pull-out shelves to store your smaller electrical appliances like your mixer and coffee machine. Even larger appliances like your dishwasher or a wine refrigerator can be installed under the counter and out of the way, freeing up cabinet space and increasing your storage capabilities.
Natural Textures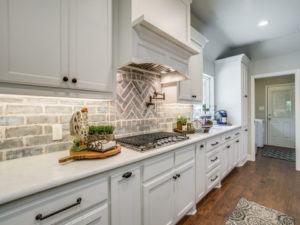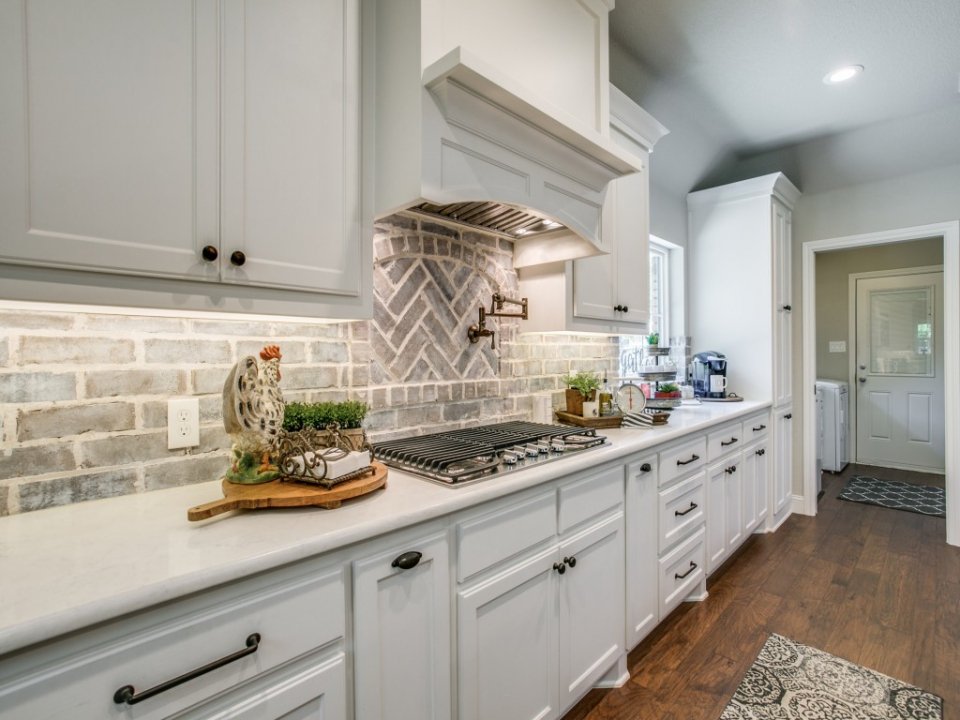 If pops of bold, bright colors are not your thing, have no fear. 2020 kitchen design trends are chock-full of natural textures and details that can add a unique twist to your space. Incorporate brick around the exterior of your island or patterned as a backsplash, install stone or hardwood to your floors or countertops, and use reclaimed wood in your cabinetry or as beams on your ceiling.
Standout Backsplash
Your kitchen backsplash is the perfect place for you to get creative and express some of your personality in your space. Consider an elaborate piece in a neutral color that compliments your cabinetry. Or, if you're feeling brave, go for a more bold and colorful statement piece that is sure to stand out from the rest of your kitchen design.
Dark Cabinetry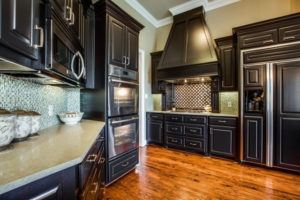 We have seen a rise in dark cabinetry throughout the last couple of years, and it's not slowing down any for 2020! Dark blue cabinets are especially popular, so it was no surprise when Sherwin-Williams named Naval as their 2020 Color of the Year. Dark blue cabinets can be used as an accent color on an island or used throughout the entirety of your kitchen. They pair beautifully with trendy gold and copper hardware, giving your space a very regal and luxurious look.
Cabinets Without Hardware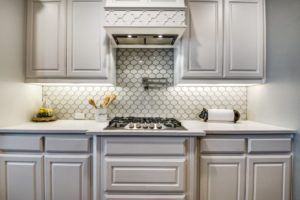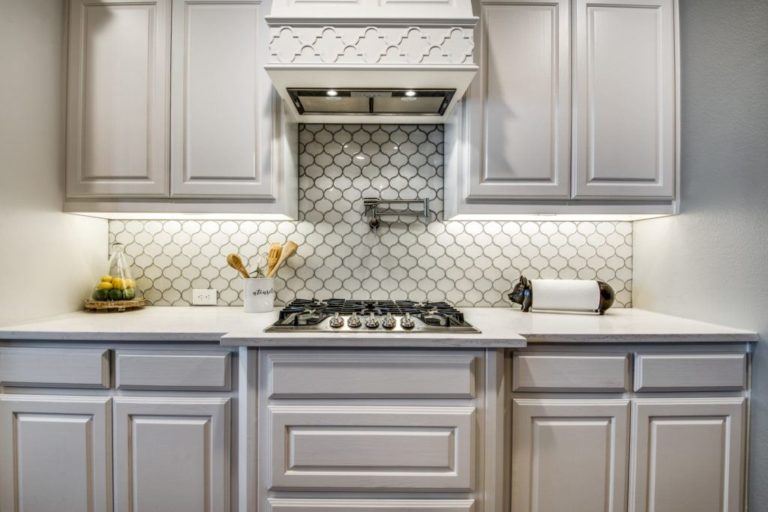 Sleek, modern kitchens are popping back in to say "hello" in 2020, bringing with them minimalism and trendy cabinets without added hardware. That's right, you heard us correctly. Hardware is among the kitchen cabinet trends to avoid. It's a thing of the past with these modern kitchens, giving your cabinets a crisp, clean look that will last for years to come.
The hottest kitchen design trends are big, bold and beautiful in 2020. If your kitchen space is looking a little dated, it may be time for an upgrade! From cabinetry to flooring and everything in between, there's sure to be a design trend that will fit everyone's needs and styles.
Related Images: